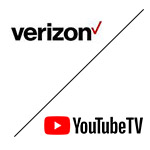 A Verizon YouTube TV partnership was announced today by Verizon CEO Hans Vestberg on the company's quarterly earnings call this morning. The partnership appears to expand upon an earlier announced Verizon YouTube TV partnership tied to the launch of their 5G Home fixed wireless service.
That partnership now apparently expands to both traditional Verizon mobile subscribers, as well Fios internet subscribers.
Vestberg announced the deal on today's call but offered no details. A press release followed but didn't shed much more light.
"Verizon's partnership with Google and YouTube TV will allow Verizon wireless mobility customers to stream their favorite content via YouTube TV on the largest, most reliable network; wireless 5G home customers to add premium content from YouTube TV to their internet bundle on a national scale; and Fios broadband customers to choose from even more options when it comes to content and services," the press release states.
But there's no insight into any value-add pricing or bundling for Google's streaming video service, which is currently priced at $50/month for roughly 70 channels. For Verizon's 5G home service, the company announced a free three-month promotional campaign for YouTube TV. A Verizon mobile customer can already "stream their favorite content via YouTube TV on the largest, most reliable network" today. So what benefit is Verizon actually providing?
A Verizon spokesperson responded to a Telecompetitor inquiry, saying "[w]e'll be providing unique, industry-leading offers to Verizon customers to access YouTube TV in a seamless manner, bundled with their other Verizon services.  We'll share more details on those offers soon, along with timing around availability."
Verizon has been offering several entertainment value-add benefits for both their mobile and home internet subscribers. They recently launched an Apple Music bundle for their unlimited mobile subscribers. They've also added Netflix and Amazon Prime video promotions for Fios internet subscribers.
YouTube TV for Fios internet subscribers provides a viable substitute for Fios video services. Verizon, like other traditional large pay-TV providers, is seeing cord cutting take an effect. They announced a loss of 53K Fios video providers in 1Q19.
Depending on the value this new partnership actually delivers, we may see an acceleration in that trend for Fios video.