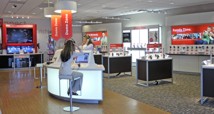 Verizon Wireless announced a renewed retail effort with the introduction of a new "evolutionary" store design and experience. The enhanced retail strategy has already made it to 100 retail stores, and will soon follow with an additional 180 outlets. The new store design focuses on creating an "experience" with hands on demos of both Verizon Wireless technology and devices, and where appropriate, Verizon FiOS and other landline broadband technology. Some of the new store features include:
A dedicated demo zone where customers can explore, experiment and learn using interactive touch-screens
More than 55 working models of handsets, PC cards and other devices for customers to try
A bill payment kiosk
AT&T is following a similar strategy with their retail outlets. The strategy goes well beyond wireless sales. Both Verizon and AT&T are trying to leverage their significant retail footprint for cross selling of all communications products and services – wireless and wireline. If executed well, it could prove to provide an advantage over cable and DBS competitors who lack company owned and operated retail stores. A key metric to observe over the coming months and years is how many quad play customers Verizon and AT&T manage to convert from their retail footprint. They have a distinct advantage in trying to upsell landline broadband and video offerings to the thousands of wireless customers, many of whom are current customers of cable and DBS competitors, who visit these stores everyday. Of course execution is key. Having the ability to upsell those landline services and effectively selling them in a retail environment are two separate things. Wireless retail stores haven't exactly been bastions of great customer service and efficiency. Staffing those stores with the proper mix of product specialists who can cross sell will be challenging, not to mention ensuring there is an efficient service order and provisioning process. It will be worth watching.