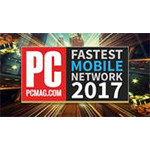 Verizon Wireless held on to the title of the fastest U.S. mobile network, at least when it comes to mobile network speeds among the nation's four largest carriers, which amounts to essentially the same thing, according to PC Magazine's latest annual nationwide speed test.
Verizon Wireless once again earned PCMag's number one ranking for 2017, but just by a nose. Overall, the nation's leading mobile network services provider operated the most reliable and consistent high-speed mobile network in the land in what amounted to the closest competition PCMag has run in the eight years it has been conducting its nationwide speed and overall performance tests and ratings.
Fastest U.S. Mobile Network
While it retains its overall title for another year, Verizon Wireless split individual wins in 36 cities and rural regions three ways with AT&T and T-Mobile, PCMag's Sascha Segan highlights.
Furthermore, AT&T earned the number one spot when it came to average mobile network download speed. In addition, T-Mobile bested Verizon Wireless on price in some service territories, while delivering about the same level of performance, according to the report.
Making for an "apples to apples" comparison, PCMag's mobile network testing team spent most of May driving within and between 30 cities. The same Samsung Galaxy S8 smartphones and a custom version of Ookla's Speedtest.net software were used to connect to, assess and compare mobile network connectivity and performance.
When all was said and done, the PCMag test team had collected more than 124,000 data points. Downloads, uploads, latency and reliability data were balanced to produce a PCMag Speed Score for AT&T, Sprint, T-Mobile and Verizon Wireless networks.
AT&T, T-Mobile and Verizon Wireless's mobile networks turned in strong overall performances. AT&T's New York City mobile network performance was weak, but it was strong in Indianapolis, for example. Those results were reversed when it came to T-Mobile's mobile network services in those two cities.
Turning to overall PCMag 2017 major US city-mobile network speeds, Verizon Wireless earned a score of 97. T-Mobile fell one point short. Running third, AT&T earned an overall score of 93. Sprint came in a distant fourth at 74.
Commenting on Sprint's last-place showing, Segan reports that the PCMag testing team recorded the same peak mobile network speeds for Sprint that it did for the other carriers, but much less consistently. Sprint's mobile network speeds would spike high and reach a maximum and then plummet within cities more frequently than was the case for other carriers.
From a longer term perspective, the mobile network speeds PCMag's testing team registered this year were unheard of back in 2010 when PCMag published the results of its inaugural nationwide mobile network test. At that time, no carrier delivered mobile data at speeds over 5 Mbps, Segan highlights.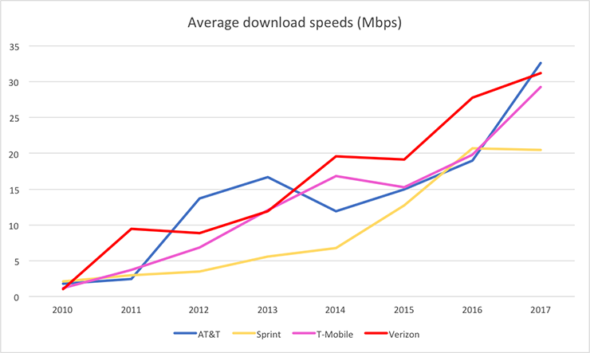 Examining a graph of maximum download speeds from 2010 to 2017 reveals an apparent doubling about every two years – from 50-60 Mbps in 2014 to 120 Mbps and 200 Mbps this year.
Chalk that up to the introduction and expansion of 4G LTE wireless networks. Furthermore, there's plenty more room for additional gains to be had. Telstra's well-designed gigabit 4G LTE mobile network in Australia can deliver digital data at speeds of 400-450 Mbps regularly, Segan points out.