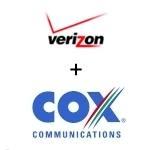 Verizon Wireless and Cox Communications said today that they will co-market one another's services in "select markets" in Kansas, Arkansas and Nebraska.
The companies plan to offer the same promotional package that they previously announced in Oklahoma, enabling customers who buy packages of Cox video, Internet and voice services bundled with Verizon Wireless smartphones and tablets to receive a Visa debit card worth between $100 and $400, depending on the package. Customers will be able to purchase the package through either Cox or Verizon Wireless.
Verizon Wireless inked a co-marketing deal with Cox and several other major cable companies late last year, announcing the deal at the same time they announced that Verizon Wireless wanted to purchase unused wireless spectrum held by the cable companies. While Verizon Wireless and its cable company partners waited for the spectrum deal to be approved, they announced co-marketing agreements in numerous markets where Verizon Wireless's landline-focused parent Verizon is not the incumbent carrier.
Comcast was the most aggressive in pursuing promotional offerings with Verizon Wireless,  and the two companies currently partner on offers in dozens of markets nationwide. Time Warner Cable also has partnered with Verizon Wireless in multiple markets. But until today, the only state where Cox and Verizon Wireless were co-marketing one another's services was Oklahoma.
The decision to focus co-marketing deals on areas where Verizon Wireless's parent company is not the incumbent landline carrier was a smart decision on the part of Verizon and the cable companies because the co-marketing agreements raised concerns with the Department of Justice. And the DOJ in August persuaded Verizon Wireless to agree not to sell cable company products in areas where its parent company offers FiOS high-speed broadband and video service, paving the way for the FCC's approval of the spectrum deal just days later.