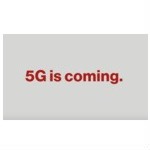 Verizon plans to test 5G wireless technology in a fixed implementation in rural as well as urban and suburban areas in trials beginning next year, said Verizon Executive Vice President and Chief Financial Officer Fran Shammo today. Initially rural 5G didn't appear to be part of Verizon's plans, as the company originally talked about the technology in connection with suburban areas.
"You'll see us in cities, you'll see us in suburbs, you'll see us in rural" areas, said Shammo in a question and answer session at the Goldman Sachs Communacopia conference, which was also webcast.
Verizon 5G Lead?
Verizon wants to lead the way in 5G deployment as it did previously with LTE, Shammo said. That goal motivated Verizon's decision to purchase XO Communications, which had substantial holdings of spectrum in the 28-31 GHz band suitable to support 5G. With that spectrum, Verizon aims to get a jump on competitors that likely will have to wait until the government frees up spectrum in the 28 GHz to 39 GHz band before they can deploy 5G.
Noting that some competitors are saying they will deploy 5G in 2019 or 2020, Shammo said "That's because they don't have spectrum. We do. . . I'm going to speed into 5G in 2017."
5G deployment should mesh well with Verizon's plans to densify its existing mobile networks, Shammo said. Those plans involve bringing backhaul connectivity closer to end users to support smaller-radius cells, thereby boosting network capacity. Once fiber is in place to support densification, it can also be used to provide backhaul for fixed 5G deployments, Shammo noted.
In addition, he said, "we have to add an antenna to the small cell to create the beams for 5G."
Shammo declined to discuss specific 5G economics but he said deployment costs should be considerably lower than for landline alternatives such as fiber-to-the-home because Verizon won't have to bring fiber all the way to the home, nor will it have to roll a truck in order to connect the optical network terminal.
In the upcoming trials, Verizon plans to look at issues such as how many beams are needed and how many homes can be served from a single small cell.
Verizon Rural Strategy?
Shammo's reference to rural 5G trials is important not only from a technology perspective, but also from a strategic perspective. In recent years, rural areas have not appeared to be a priority for Verizon. In addition to selling off some of its rural properties, for example, the company also has declined several times to participate in the Connect America Fund that pays some or all of the costs of deploying broadband to costly-to-serve rural areas where service is not available today.
Perhaps fixed rural 5G will be for Verizon what Project VIP was for AT&T – a recognition that a buyer for remaining rural lines may be difficult to find and that it's time to tackle rural broadband network upgrades.