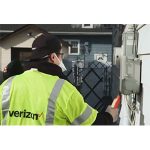 Verizon has become the second large service provider in as many weeks to feature technology that will help keep residential and business telecommunications services up and running while reducing subscriber and technicians contact during the COVID-19 pandemic. Verizon Virtual Assistant aims to "stand-in for the technician's physical presence" within the home or small business.
"We know how critical communication is, especially now as more and more people are working from home, engaging in distance learning and moving their family and friend interactions online," Kevin Service, Verizon's Senior Vice President of Operations, said in a press release. "This new tool gives us the ability to provide the excellent service our customers deserve while minimizing the need for in-person interaction in these unprecedented times."
Verizon Virtual Assistant
Verizon Virtual Assistant aims to enable voice, data and video problems to be confronted from a distance. A text link is sent from the tech outside. This opens a video chat that can be supplemented by images shared by the customer. Outside repairs will be performed as before
[embedyt] https://www.youtube.com/watch?v=g5pxwsYTwZ0[/embedyt]
Cox made a similar announcement last week. Cox On-Site with Virtual Assist serves much the same purpose. It initially was launched in California and Sun Valley, ID. Last week, the company said that it is available in all of the company's markets.
Cox Virtual Assist and Verizon Virtual Assistant are win-wins for service providers and may well have significant use after the crisis ends. One of the biggest cost items is fleets. They must be acquired, maintained, updated, insured and powered. Technicians spend much "windshield time" traveling to and from service calls. These calls often focus on routine matters that can be handled remotely. The difference between the Verizon and Cox approaches – or at least in how they are presented – is that with Verizon Virtual Assistant, the technician is dispatched to the premises but stays outside.