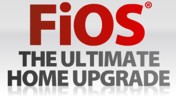 Verizon announced two new triple play bundles aimed squarely at its cable competitors. The new promotions feature both a FiOS bundle, priced at $99/month and a DirecTV/DSL powered triple play bundle at $79/month. Both promotions provide a $150 Visa prepaid card. The messaging on the two promotions is quite clear – the DirecTV/DSL bundle is centered on price, while the FiOS bundle is centered on premium features and value.
Consider the messaging for the DirecTV/DSL bundle. "We are helping consumers handle today's strained budgets by providing greater value than what cable companies offer," said Susan Retta, Verizon vice president of consumer product management in a statement announcing the promotion. Contrast that with the FiOS promotion which uses language like "ultimate home upgrade" and "give your entertainment an upgrade." Both promotions take shots at cable, either through better pricing or better value. The FiOS promotion is also offering free 'premium installation' and utilizes a microsite to promote the offer. Both promotions expire June 20th and require a two year contract with early termination fees.
Verizon is also seizing on the metered bandwidth controversy, recently inflamed by Time Warner Cable. Time Warner Cable has had to backtrack from plans to institute a metered bandwidth policy due to public outcry. Verizon is happy to report that their "…subscribers are not subject to bandwidth caps that some Internet service providers assess, so there's no penalty for heavy use of broadband service." Expect Verizon to continue emphasizing that point, especially in markets where FiOS competes with cable.