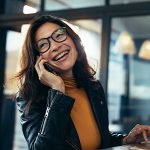 One of the less expected communications trends during the coronavirus pandemic: According to Verizon network traffic data, people are talking on the phone more.
Total voice usage is up 25%, according to the carrier, and the duration of calls is up 15%. Voice usage is up a bit more than web traffic, which increased 22%, Verizon data shows.
The data compares peak Verizon network traffic on March 19 with March 12, one week earlier, before Americans widely began isolating themselves in their homes in response to expert and government requirements and recommendations about how to stop the spread of the virus.
Communications Traffic Coronavirus Trends
Dig a little deeper into the data and the increased voice usage perhaps isn't so surprising: That trend is driven primarily by people accessing conference call services, Verizon said. It seems all those face-to-face meetings have been replaced by voice-only virtual meetings, a.k.a. conference calls.
"For years we've seen a steady decline in the amount of time people spend talking to one another, especially on wireless devices," said Verizon Chief Technology Officer Kyle Malady in a press release about the communications traffic coronavirus trends.
Nevertheless, wireless voice usage was up 10% last week.
As Malady put it, "The move to staying at home has reignited people's hunger to stay connected, voice-to-voice."
Another trend that may be driven by employees working from home during the virus outbreak is increased use of VPNs, which saw a 25% increase over the study period.
Of course, not all changes in network traffic are driven by business usage. Verizon also saw a 75% increase in gaming traffic between March 9 and March 17.
According to a press release, Verizon has been closely monitoring traffic patterns on its wireless and fiber networks and has added network capacity in "small pockets where there has been a significant increase in usage."
Carriers' Response to the Coronavirus
On the wireless side, Verizon should find it easier to meet Coronavirus communications traffic increases, now that it will be able to boost capacity by temporarily borrowing spectrum from the FCC's inventory and from two companies that have spare spectrum in a band that Verizon uses.
All other major wireless carriers also are temporarily borrowing spare spectrum from various entities.
Verizon is one of about 400 U.S. communications service providers that have taken a "Keep Americans Connected" pledge formulated by the FCC.
The providers have committed to not terminate service to any residential or small business customers because of their inability to pay their bills due to the disruptions caused by the coronavirus pandemic; to waive any late fees that any residential or small business customers incur because of their economic circumstances related to the coronavirus pandemic; and to open their Wi-Fi hotspots to any American who needs them.