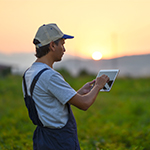 The FCC said today that it has given final authorization to more than a dozen Connect America Fund II auction winners, including Verizon, along with smaller electric cooperatives, fixed wireless broadband providers and more. The authorized CAF II auction winners will share $166.8 million in funding over 10 years to help bring broadband to rural areas that are costly to serve and where broadband is not available today.
This is the second announcement the commission has made of CAF II winners obtaining final authorization, bringing the total of funding authorized to date to $278.4 million over 10 years. The auction tentatively awarded a total of $1.488 billion to more than 100 entities, and winners are now going through the final approval process.
Entities winning CAF II auction funding were required to submit a long-form application after their winnings were announced. After the FCC reviews and approves those applications, the entities are then put on a "ready to authorize" list. To date, the commission has issued at least four "ready to authorize" lists, the most recent of which came out on Friday.
To obtain final approval, entities deemed "ready to authorize" must obtain a letter of credit conforming to FCC requirements.
Authorized CAF II Auction Winners
Verizon may be the best known of the entities on today's final authorization list, but the company is not the biggest funding recipient on today's list. The companies authorized to receive the largest amounts from today's list include:
Central Virginia Services, an electric cooperative ($28.6 million)
NTUA Wireless ($28.4 million)
Co-Mo Comm, an electric cooperative ($22 million)
Commnet of Nevada ($23.6 million)
Next, Powered by NAEC ($22.6 million)
Verizon received final authorization for a total of $9.477 million for virtually every state in its local service territory other than New York, where the company was awarded $82 million through a previous auction that awarded a combination of federal and state funding, including $12 million in CAF II funding.
Today's list reveals that Verizon plans to deliver service at speeds of at least 1 Gbps downstream and 500 Mbps upstream to locations for which the company won funding in the CAF II auction. The company joins two other incumbent price cap carriers – Hawaiian Telcom and Cincinnati Bell – whose  CAF II funding authorization to deploy gigabit service was previously announced.
Entities bidding in the CAF II auction had to commit to deploying service at speeds of at least 10 Mbps downstream and 1 Mbps upstream. Winners were those that offered to deploy service for the lowest level of federal support, but a weighting system gave an advantage to those that offered to deliver higher speeds and lower-latency service.
Many of the entities receiving final authorization in today's announcement have committed to deploying gigabit service, including four of the top five winners on today's list – Central Virginia Services, Commnet of Nevada, Co-Mo Comm and Next. NTUA Wireless will deploy 25/3 Mbps service. A relatively small percentage of CAF II winners committed to deploy only the minimum 10/1 Mbps service.
To date, a few CAF II auction winners have been deemed to be in default on their bids. An FCC official told Telecompetitor previously that funding associated with those bids will roll into the next CAF auction, which will award funding for unserved areas that did not receive winning bids in the first auction.
Additional information about authorized CAF II winners announced today can be found here.
Updated