Verizon today announced its intention to acquire Tracfone Wireless and become the prepaid wireless leader in the U.S. as a result. The deal, which could be valued at close to $7 billion in cash and stock, would add Tracfone's 21 million subscribers to the Verizon fold.
Verizon, already the largest postpaid wireless carrier, would become arguably the largest prepaid wireless carrier as well when this transaction closes. Tracfone is the largest wireless reseller in the U.S. and operates multiple brands, including StraightTalk Wireless, with a retail footprint of 90K locations.
"This transaction is aligned with what we do best: providing reliable wireless service alongside a best-in-class customer experience," said Hans Vestberg, Chairman and CEO of Verizon in a press release. "We are excited about the opportunity to bring Tracfone and its brands into the Verizon family where we can put the full support of Verizon behind this business and provide exciting and compelling products into this attractive segment of the market."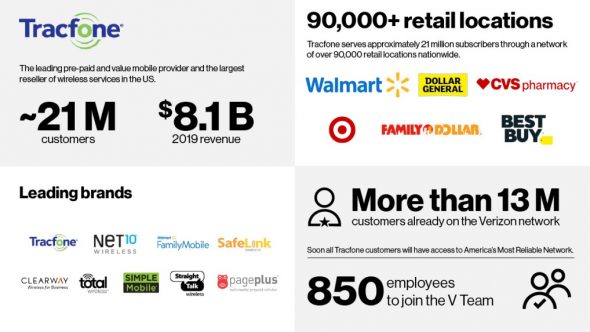 The deal comes shortly after T-Mobile's completed acquisition of Sprint, which positioned T-Mobile as a prepaid wireless powerhouse through its Metro brand. According to a Bloomberg post, T-Mobile currently has 20.6 million prepaid customers, while AT&T has 18 million. Verizon has about 4 million.
The deal includes $3.5 billion in cash and $3.5 billion worth of Verizon stock. There's an additional $650 million cash consideration tied to performance goals. Tracfone is a unit of America Movil, which is controlled by Mexico billionaire Carlos Slim.
In addition to the "value segment" that Tracfone brings to Verizon, the company sees Tracfone customers as fertile ground for its 4G LTE and 5G ambitions. About 13 million Tracfone customers already use the Verizon network, according to the company.
The transaction is subject to regulatory approvals and other customary closing conditions, with an expected close date to occur in the second half of 2021.