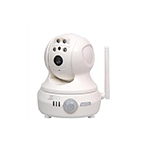 Verizon Tech Support Pro, launched yesterday, is a customer care service that provides 24/7 support for connected devices in the home. Available to Verizon Fios and High Speed Internet customers, the new customer tech care service covers desktop and portable computers, smartphones and tablets, as well as smart home technology such as connected air conditioners, washer/dryers and door locks, Verizon highlights in a press release. The offering also apparently covers IP cameras, as the press release says the service covers anything that connects to a router and the company provided an IP camera photo with the release.
Verizon Tech Support Pro
Verizon Tech Support Pro is available in versions that run on Apple and Android smartphones and tablets. The service contracts include up to five free Mac or Windows PC tune-ups per year, 50 gigabytes of data transfer between any storage devices and a smartphone app that connects subscribers to customer tech support reps on demand via voice connections or text messages.
The á la carte Tech Support Pro service costs $10 per month for existing Fios Interent and High Speed Internet subscribers. Verizon is offering a special bundled service price of $15 a month, a 50 percent discount on the new customer tech care service, for those who sign up for Tech Support Pro and the Fios Quantum Gateway Router.
A Trendsetter?
Keeping personal and home networks humming along is becoming increasingly complicated as IoT technology is incorporated in vehicles, household appliances, equipment and devices. Network operators see opportunities arising to provide brand name customer tech support services as a result.
There were more than seven connected devices in U.S. households on average in 2015. At 37 percent, smartphones accounted for the greatest share in U.S. households, according to comScore's recently released Total Home Panel market research report. Desktop PCs ranked second at 28 percent and tablets third at 17 percent.
Furthermore, eight in 10 Americans either own or are interested in owning smart home devices, according to market research results released in April by Kelton Global and Research.