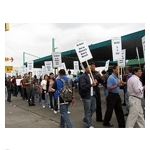 The Communications Workers of America (CWA) and the International Brotherhood of Electrical Workers (IBEW) officially went on strike at Verizon yesterday. The strike affects 45K workers, primarily in the Northeast and Midatlantic states. Besides the normal posturing between labor and management, this work stoppage further illustrates the vulnerability of the residential wireline business, particularly if your job involves installing and maintaining it.
Verizon is going out of its way to inform the public that this strike does not impact their 'crown jewel' wireless business. But it does affect their wireline crown jewel of FiOS. Why put that at risk? Because the broader issue – residential wireline services – has a dwindling impact on Verizon and its profits. The broader issue is more important to the company right now.
If you work for Verizon, and your job is installing and maintaining residential wireline services, you're long term future is vulnerable. Both sides know this, management and labor, and that's why they are digging their heels in now. The unions know they will need to fight for everything they can going forward and so they are drawing a line in the sand, fighting for whatever pay, benefits, and work rules they can salvage.
The company knows that residential wireline future will mean less and less to their top line and so they want to hold the line on labor costs associated with it, even if it means short term loss through a strike. The CWA claims Verizon is demanding "… $1 billion in concessions per year. That's $20,000 for every worker."
Verizon is said to have mobilized 10K management employees to cover for the 45K strikers. I'd be willing to bet that FiOS installation and maintenance work is taking the priority for these worker fill-ins – the one residential wireline area where Verizon sees a future.
Image courtesy of flickr user GrahamKing.