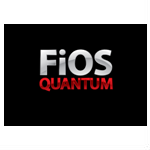 Verizon today revealed pricing and a new name for the higher-speed FiOS data services the company announced late last month. The new speed tiers, to be known as "FiOS Quantum" include downstream/upstream rates starting at 50/25 Mbps and reaching as high as 300/65 Mbps. The company also is retaining its existing entry-level 15/5 Mbps service, which apparently does not carry the "Quantum" name.
A Verizon spokesman said other pre-existing speed tiers will be phased out but customers currently on those tiers will be able to continue service until their existing contracts expire — or they can move into a new bundle immediately without encountering an early termination fee.
The new 50/25 Mbps service will cost $74.99 to $79.99 per month as a stand-alone service, depending on whether the customer commits to a two-year contract. In addition, the service will be available in triple-play bundles that also include voice and video service for $109.99 to $149.99 per month, depending on which FiOS TV package is ordered.
The price for stand-alone 75/35 and 150/65 Mbps service will be $89.99 and $99.99 per month, respectively, for month-to-month service, with a five dollar discount per month when a two-year contract is signed. Both of those service tiers are also available in triple play bundles ranging from $114.95 to $154.99 per month for the 75/35 Mbps offering to $169.99 to $174.99 for the 150/65 Mbps.
All of the new service tiers will also be available in double play bundles with FiOS TV, with the exception of the 300/65 Mbps service, which will be available only as a stand-alone service at a cost of $209.99 on a month-to-month basis or $204.99 per month when the customer signs a two-year contract.
The majority of existing customers, Verizon said, would be able to double or triple their Internet speed by paying about $10 to $15 more per month. The company also noted that customers "may be able to adjust their FiOS TV tiers as desired and pay roughly the same monthly total that they pay now."
In an announcement of the new pricing, Verizon Chief Marketing Officer Mike Ritter suggested that the new pricing tiers were driven, in part, by the increased use of video streamed over the Internet. "As consumers stream and watch more movies, sports and shows in their homes on devices other than traditional TVs, such as smartphones, tablets, gaming consoles, smart TVs and Blu-ray players, they need faster broadband to enhance their experience," he said.
A few network operators, including EPB in Chattanooga, have begun to offer residential broadband service at rates as high as 1 Gbps. Accordingly Verizon was careful about how it worded its claims about its new broadband service tiers–noting, for example, that the speeds are "the nation's fastest, mass scale residential Internet speeds available."
The company also made a point of positioning its new broadband service tiers against cable company offerings, noting that "the fastest Internet speeds offered by cable company challengers top out at 105 Mbps downstream and 20 Mbps upstream."
Asked about the equipment required to support a speed upgrade, a Verizon spokesman wrote in an email to Telecompetitor that "the majority of our customers will be able to order the higher speeds of 150/65 and 300/65 Mbps. Some customers may need a new optical network terminal (ONT) and a CAT 5 connection from the ONT to their main Internet connection, and the two fastest-speed options of 150/65 and 300/65 Mbps will require a connection using Gigabit Passive Optical Network (GPON) equipment as opposed to . . . Broadband Passive Optical Network (BPON) equipment. Existing customers with a BPON terminal who qualify for the GPON service will require a new GPON terminal installed and an upgraded router."
The spokesman added that "We expect the 'new norm' of FiOS Internet, aka, the 'sweet spot' in terms of speed to be the 50/35 and 75/35 Mbps offers, and that will not require a truck roll for existing customers or any new equipment placed at the customers' residence."
Verizon's 300 Mbps offering was cited in the US Ignite announcement last week focused on identifying new applications that leverage high-speed services. But the Verizon spokesman said the carrier is not offering any unique terms to US Ignite participants.