Verizon unveiled an updated streaming device today, Stream TV, giving customers an alternative to Roku, Amazon Fire TV, and Comcast's Flex. The streaming set-top-box was first introduced by Verizon about a year ago.
The updated Verizon Stream TV device is an Android-TV powered device, giving subscribers access to the typical slate of streaming services including Disney+, Netflix, Prime Video, Hulu and more. On-demand programming is also available through the Google Play Store.
Through Google Assistant, Stream TV also has voice control. The streaming device is also Wi-Fi 6 capable and supports 4K Ultra HD, HDR10 and HDR 10+ display formats. Google's Chromecast is also built in to Stream TV.
Verizon Integration
Verizon offers some integration with customer accounts, including single sign-on account functionality for billing purposes. Purchases made through the Google Play store can be direct billed to an existing Verizon account.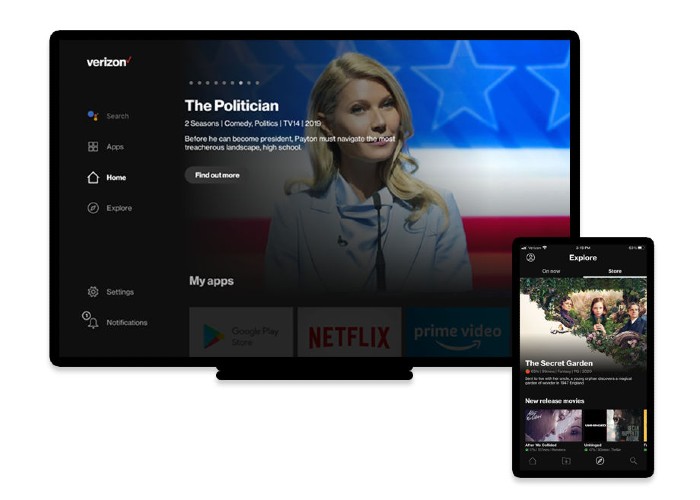 Verizon also reports the upgraded streaming device now features a new Verizon focused user interface with features that can save favorites and settings and is optimized for Fios Home Internet and 5G Home customers.
An accompanying Stream TV app is available, although only in the Google Play store for now. An iOS version is not available, at least not yet.
Streaming Strategy
Stream TV is priced at $70, but Verizon packages it for free to new Verizon Fios Gigabit or 5G Home customers.
Arch rival Comcast has a similar streaming product with Flex and takes a more aggressive approach. Flex is offered for free to all Comcast internet customers and is more closely integrated with Comcast's Xfinity X1 video operating system and its xFi managed Wi-Fi platforms.
Verizon has been aggressive too but focused more on streaming partnerships. It offers a one year subscription to Disney+ and free trials of YouTube TV for Fios, 5G Home, and mobile customers.