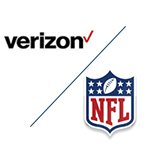 The 5G ecosystem is busily preparing for the coming deployments and increased availability. One of the most important tasks is making sure that people have compelling reasons to spend money for advanced 5G services and devices. One such initiative is the Verizon 5G NFL Mobile Gaming Challenge.
The challenge is open for submissions until August 11. The winning team will be announced at Super Bowl LIV in 2020, which will be held on February 2 at Hard Rock Stadium in Miami. Winners will get $400,000, use of Verizon 5G Labs and access to gaming mentors.
"Verizon 5G Ultra Wideband offers a whole new creative playground for developers to push the limits of what's possible and disrupts mobile gaming," said Nicki Palmer, Verizon's Senior Vice President of Technology and Product Development. "5G's high bandwidth and low-latency have the potential to totally transform the gaming experience. By putting the power of our Ultra Wideband network in the hands of the many fans of the NFL, we believe we'll see some gaming concepts we couldn't even have imagined before 5G."
The challenge is part of a two-year partnership between Verizon and the NFL to develop products and services based on 5G and other emerging technologies. It also is part of Verizon's Built On 5G program that will create use cases for the company's 5G Ultra Wideband platform. The partnership between the NFL and Verizon also includes in-stadium experience and video streaming technology.
Semi-finalists will be announced on September 5 and one or two finalists will preview their entry at the Super Bowl, according to the press release. The panelists selecting the winner will include technology, gaming, 5G and sports experts from the NFL and Verizon. Criteria will be maturity, scalability, innovation and the tools used to create the game.
Verizon is moving ahead with its 5G deployment plans. In April, the carrier announced 20 additional mobile 5G markets: Atlanta, Boston, Charlotte, Cincinnati, Cleveland, Columbus, Dallas, Des Moines, Denver, Detroit, Houston, Indianapolis, Kansas City, Little Rock, Memphis, Phoenix, Providence, San Diego, Salt Lake City and Washington D.C. The carrier also began taking orders for a 5G version of the Galaxy S10 smartphone.