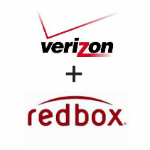 Verizon sure seems to be in the news a lot lately. I thought things were supposed to slow down in December? The latest on Big Red is an OTT offer which would compete with Netflix by streaming movies and TV shows, both inside and outside of Verizon markets.
Techcrunch is reporting that Verizon intends to partner with Redbox for this Netflix rival. Redbox operates DVD rental kiosks in 28,000 locations nationwide. Redbox claims that 68% of the U.S. population lives within a five-minute drive of a Redbox kiosk. Despite this, Redbox has been looking for a way to get into the digital distribution business, and Verizon might just be their partner to accomplish it. Techcrunch reports the partnership may yield an offer as early as May 2012.
Verizon may be a good fit for Redbox, given Verizon's own effort to build a content delivery network (CDN). A hook up with Redbox for a Netflix type offer will give Verizon an additional way to monetize that CDN investment and allow them to leverage the Redbox brand and their experience in the video rental business.
According to the Techcrunch report, the new service "…will be a subscription, streaming, and downloading service for TV and movies that will be available on a broad variety of platforms: they plan support for iOS, Android, Google TV, Xbox, Roku and other streaming boxes, and browsers."
There's an element of speculation with all of this, considering neither company is confirming the partnership. But it does introduce some interesting possibilities. Could this effort be the initial step of what Light Reading's Jeff Baumgartner refers to as a virtual MSO, where a video service provider offers a subscription OTT video service which includes VOD and broadcast TV to virtually any customer with a broadband connection? In effect, an OTT version of today's subscription pay TV service.
The technical capability to do this is already here and companies like Verizon and Comcast could pull the trigger on such an effort if they really wanted to. The issue comes down to business case. Just because you can do it, doesn't mean you should. The business case is not crystal clear – in fact it's quite muddy. Add to that the skittishness of content players to license content in this new world order and the hurdles mount. Considerably.
But, it is fun to watch it all unfold.