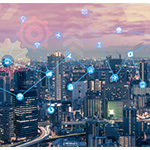 Verizon said today that it has launched its NB-IoT network nationwide, which it says now covers more than 92% of the U.S. population.
The network complements Verizon's ThinkSpace management platform, APIs, tools and partner ecosystem to provide NB-IoT-based solutions to market quickly, the company said.
"There is a whole universe of smart solutions needing scalable and affordable connections," Jeffrey Dietel, the carrier's Senior Vice President of Business Marketing and Products, said in a press release. "By launching our NB-IoT Network, Verizon is taking yet another step in making that connectivity available and driving innovation in the IoT field."
The NB-IoT network is designed to enable IoT applications by supporting lower cost chipsets, greater coverage and battery life that Verizon says is "significantly prolonged."
It carries both IP and non-IP data traffic. The latter capability is especially useful because it supports uses that may not be mobile. Examples are alarm panels, environmental sensors, industrial appliances, factory equipment and parking meters.
Verizon offers broad categories of use cases for NB-IoT, including smart cities, smart buildings, industrial, environmental monitoring, agriculture, asset tracking and utilities.
The carrier also provided several updates today. It said it is in the final stages of testing with module vendors Telit, SIMCom and Quectel. Products from the companies are ready for development efforts. Subscriber pricing also is available. The Standard Price Plan offers 50 KB of data for a dollar-per-month, per-device access fee. The data can be shared between NB-IoT devices on the same plan and account.
Carriers are seeking to support the IoT in a number of different ways because different networks may be more appropriate for different use cases. For instance, Verizon supports NB-IoT on 4G LTE, LTE Cat 1, and LTE Cat M1 networks. Last August, the carrier added fixed voice service to the M1 network.
Verizon competitors AT&T and T-Mobile have also launched nationwide NB-IoT networks recently.