Verizon has set a goal of becoming the only nationwide broadband provider, said company executives at today's Verizon Investor Day, which was also webcast. This will be made possible through a combination of Fios fiber broadband, Verizon Home fixed wireless, and satellite broadband service.
The company already has Fios available to 16 million locations, which will increase to more than 18 million by year-end 2025, when the company expects to have 8 million Fios internet subscribers, according to company forecasts. In addition, the company has set a goal of making fixed wireless available to 50 million households and 14 million businesses by year-end 2025, when it expects to have between 4 million and 5 million subscribers for the service.
For rural areas and to serve global enterprise customers, Verizon expects to leverage its partnership with Amazon involving Amazon's Project Kuiper low-earth orbit satellite broadband, noted Kyle Malady, Verizon executive vice president of global networks and technology, at today's event. The company expects to begin testing the service in 2023, Malady said.
The partnership with Kuiper was announced in October 2021, but at that time the only announced plans involved Verizon using the offering to provide backhaul for its wireless network in rural areas.
This isn't the first time Verizon has talked about nationwide broadband ambitions. Verizon CFO Matt Ellis mentioned the idea at an investor conference several months ago. But the company provided considerably more detail about nationwide broadband today, including referencing it as one of five key growth vectors for the company, along with 5G mobility, MEC and b2b solutions, the value market (i.e., the Tracfone prepaid wireless business) and network monetization.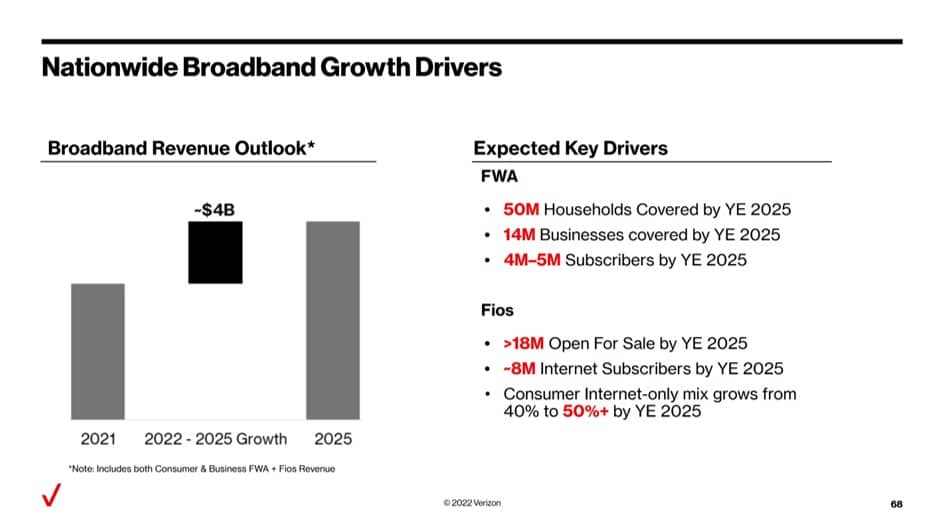 Verizon Nationwide Broadband
Verizon didn't say a lot about why a nationwide or near-nationwide broadband availability is important. But one motivating factor is likely that businesses with locations all around the country would be attracted to the company because they would prefer to minimize the number of suppliers with whom they must deal.
Nationwide broadband also could be particularly valuable for a company like Verizon that offers nationwide mobile service because it enables the company to increase average revenue per user by selling multiple services to the same customer.
Verizon Fios and Verizon fixed wireless both seem to be quite competitive offerings. In 2021, Fios broadband had its best year since 2014, according to Ellis. That may have occurred because symmetrical broadband services, such as those that Fios supports, are gaining in popularity in comparison with typical asymmetrical cable company offerings as upstream traffic grows.
Meanwhile, the Verizon fixed wireless offering has improved substantially since its launch several years ago. The service can now be installed by the end user, although Verizon also will install it if the customer would prefer not to do it. And according to Manon Brouilette, EVP and group CEO for Verizon's consumer business, the company is seeing gigabit peak speeds for fixed wireless.
"Our broadband is strong… and ready for the next 10 years," said Verizon CEO Hans Vestberg today.
Beyond Nationwide Broadband
Other highlights from Verizon Investor Day:
The company has entered into a partnership with Meta, formerly Facebook, to explore the network requirements to support plans for the metaverse.
The company may pursue funding available for broadband deployments in unserved areas allocated in the infrastructure bill that was signed into law late last year.
The company will begin deploying stand-alone 5G deployment this year and will begin moving mobile traffic onto the stand-alone core in 2023.
The company claims to be the only provider that has edge computing agreements will all three major cloud providers – AWS, Microsoft Azure and Google Cloud.
A replay of Verizon Investor Day is available at this link.