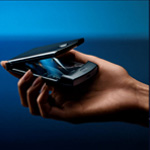 Those of us over a certain age can remember when cell phones weren't all that smart and "flip phones" were the in thing. Back then, Motorola's Razr flip phone was the iPhone of its day, in terms of cool factor, even though apps were unheard of. Verizon and Motorola are bringing the past into the future with the launch of a new modern day foldable Razr phone.
This one is of course smart. Very smart. And very expensive. The new Razr foldable smartphone will retail for $1,500 and will be exclusive to Verizon, at least initially. It's built on Android and folds out to a full-featured 6.2" display smartphone.
Unlike other foldables coming to the market, the new Razr flip phone folds in half vertically. When folded in half, it sports a "quick view" display that allows use of the phone, including the 16-megapixel camera. According to a Verizon press release, the Razr "[u]ses advanced flexible OLED screen technology and a groundbreaking hinge mechanism that allows the phone to close with both sides perfectly flush."
[embedyt] https://www.youtube.com/watch?v=yXE3x-paF_U[/embedyt]
The phone will be available for preorder starting December 26 and it will be in stores and online on January 9. Verizon is offering the phone at $62.49 a month for 24 months on the Verizon Device Payment plan.
Verizon and Motorola are counting on the 'iconic' past of the ultra-thin Razr phone, which was the best-selling pre-smartphone cellphone, setting a bit of a flip phone standard. Although many of today's smartphone users have never experienced a flip phone and can't relate. On the 'flip' side, they probably can relate to a smaller smartphone that fits more easily in their pockets.