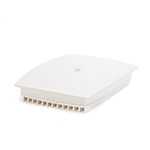 A Verizon LTE-U small cell trial looks to enhance indoor wireless coverage and add mobile services in high-density environments such as office buildings, shopping malls, hospitals and university campuses. LTE-U is a version of the LTE standard that operates in unlicensed frequency bands.
Verizon said today that it plans to conduct a trial of SpiderCloud's LTE-U Enterprise Radio Access Network (E-RAN) in 3Q this year. The small cell digital wireless system provides 4G LTE capacity and carrier aggregation over both licensed and unlicensed spectrum. Other important features include self-organizing network (SON) capabilities, which enables the system to co-exist ad hoc with Wi-Fi hotspots, according to a press release.
Verizon LTE-U Small Cell and Broader Initiatives
Verizon has already hosted demonstrations of SpiderCloud's dual-carrier, in-building LTE technology at its enterprise customer locations around the U.S., Verizon VP of network planning Adam Koeppe pointed out.
Small cells and distributed antenna systems figure big in Verizon's network plans as an alternative to building out new spectrum capacity in some markets, Verizon EVP and CFO Fran Shammo highlighted while speaking at the Deutsche Bank 2015 Media, Internet & Telecom Conference, which took place last March.
Shammo added that Verizon considers LTE-U a more viable alternative than Wi-Fi when it comes to wireless voice services and offloading cellular network traffic from licensed spectrum. He noted that the hand-off between LTE and Wi-Fi leaves something to be desired.
Better known for its unconventional and aggressive promotional campaigns and service plans, T-Mobile is also turning to LTE-U and new antenna technology. CTO Neville Ray cited T-Mobile's intention to champion the use of LTE-U, as well as plans to roll out 4×4 MIMO and three-band carrier aggregation, in a December 2015 blog post.