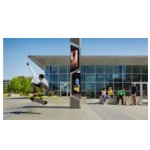 Verizon clearly is taking smart city opportunities seriously, announcing yesterday that it has purchased most of the assets of LQD WiFi, developer of an interactive smart city kiosk dubbed Palo that also acts as a WiFi hotspot.
"It's connections that make communities," explains a video about Palo on the LQD WiFi website. According to the website, Palo gives users a wide range of capabilities, including the ability to summon police, fire or a taxi; get directions; charge their mobile device; gain free WiFi connectivity; get information about "hyper-local deals" and more.
Terms of the Verizon LQD WiFi acquisition were not released.
Verizon LQD WiFi Acquisition
The Verizon LQD WiFi acquisition is the second smart city acquisition the carrier has made in just a few weeks. Last month Verizon purchased Sensity, which offers a sensor -based Internet of Things (IoT) platform for smart city applications.
In a press release, Verizon Senior Vice President of Enterprise Products and Internet of Things Mike Lanman said the Verizon LQD WiFi acquisition "positions us to utilize our unmatched infrastructure, platforms and network at scale to deploy elegant and engaging community technology hubs that connect, inform, inspire and support people where they live, work and play."
Earlier this year Verizon outlined several areas where the company sees opportunities to monetize IoT – and the LQD WiFi acquisition would appear to involve at least two of those opportunities – including data monetization and scaling IoT applications to make them more cost-effective. In addition, Verizon should have the opportunity to sell more network services to support the WiFi kiosks and sensors or other devices that might communicate with the kiosks.
When Verizon announced the Sensity acquisition, the companies noted that 42 Sensity platforms already had been installed and that Sensity had been "capitalizing" on conversions to LED lighting – a process the companies said will affect 4 billion lights worldwide over the next few years. The press release about that deal also noted that Verizon has parking, lighting, traffic management and security in its portfolio of smart city offerings.
Another element of Verizon's smart city strategy is an open platform known as ThingSpace for developers of smart city applications.
LQD WiFi did not respond to an inquiry from Telecompetitor asking how many customers the company has or how purchasers build a business case for making the investment in the kiosk technology in time for today's deadline.