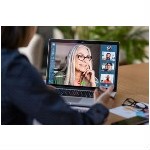 Verizon Business said that it has entered into a definitive agreement to acquire BlueJeans Network, a cloud-based provider of video conferencing and event presentation services. BlueJeans product portfolio competes with the likes of Zoom and Microsoft Teams, all of which have seen exponential growth during the current pandemic.
Verizon's press release had no details of the deal, but CNBC reports that Verizon will pay about $400 million for the firm. According to the CNBC report, BlueJeans Network has more than 15,000 customers. Verizon says that the deal is expected to close during the second quarter.
The idea is to immediately combine BlueJeans technology with Verizon's unified communications-as-a-service platform. BlueJeans' technology will also be integrated in to Verizon's 5G product roadmap and be used in areas such as telemedicine, distance learning and field services, the carrier says.
"As the way we work continues to change, it is absolutely critical for businesses and public sector customers to have access to a comprehensive suite of offerings that are enterprise ready, secure, frictionless and that integrate with existing tools," Verizon Business CEO Tami Erwin said in a press release. "Collaboration and communications have become top of the agenda for businesses of all sizes and in all sectors in recent months. We are excited to combine the power of BlueJeans' video platform with Verizon Business' connectivity networks, platforms and solutions to meet our customers' needs."
The pandemic is having massive impact on the broadband industry. Carriers, vendors and related organizations must determine how long the pandemic-related increase in conferencing and remote activities will last and to what extent the growth will be permanent. Verizon's acquisition of BlueJeans Network shows that the carrier feels the impact will be significant.
Through this meteoric growth, Zoom has faced significant network security concerns, a reality that Verizon may see as an opportunistic competitive window.  Interestingly though, last June, Verizon Business Group said that it was teaming with Zoom on a video-focused, cloud-based UC platform with a footprint of more than 50 countries. Clearly, how that initiative and the BlueJeans acquisition will fit together will be an ongoing story.