The Detroit metro area is the sixth market for the Verizon 5G Home fixed wireless offering. Customers signing up for service get a range of free offerings, including one month of YouTube TV, one free year of Disney+ and three months of Google Stadia gaming.
In a press release, Verizon also said it now offers "Enhanced" 5G Home in parts of Indianapolis and Los Angeles. Both markets were part of Verizon's initial four-city 5G Home launch, which used a proprietary version of the 5G standard. A Verizon spokesman confirmed that Enhanced 5G refers to a service based on the 5G-NR industry standard and that customers in Detroit also will get the Enhanced version of the offering.
As with Verizon's other 5G Home deployments and the company's mobile 5G offering, the service in Detroit will use millimeter wave spectrum, which Verizon calls its Ultra-Wideband Network. On the plus side, that means service will be fast. Verizon has reported speeds up to a gigabit per second with 5G fixed wireless using millimeter wave spectrum. The downside is that coverage area per cellsite will be limited. Today's press release, like other 5G Home releases, notes that service will be available in "parts of" the market.
Detroiters signing up for 5G Home will get the new router that Verizon introduced when it launched its fifth market – Chicago – late last year. The router supports the Wi-Fi 6 standard, enabling Wi-Fi speeds to match what the fixed wireless connection can deliver. It also has built-in voice control using Alexa technology.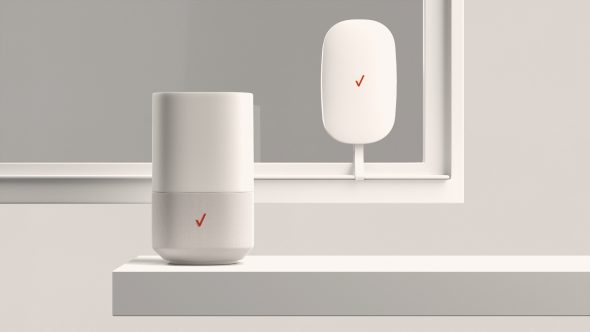 Verizon 5G Home costs $50 a month for Verizon mobile customers on mobile plans that cost at least $30 a month. People who don't use Verizon mobile service can get 5G Home for $70 a month.
Verizon 5G Home Enhancements
Today's press release notes that customers can "do Self Setup with 5G Home Internet on your own time with minimal effort." That's an important development, as Verizon initially had to roll trucks to install 5G Home – one of several reasons why some industry observers questioned the viability of the offering.
The inclusion of the freebies would also seem to be a good idea. All three offerings require considerable bandwidth and should give customers the ability to experience the fast speeds that the fixed wireless service can support. Verizon said it "teaming up" with the content providers on the exclusive offers, suggesting that Verizon's monetary commitment to the offers may be minimal – and which could also explain the short duration of some of the free offers.
Verizon continues to be optimistic about the potential for 5G Home, re-affirming today that it plans to have the offering in 10 markets by year-end. All markets launched to date have been outside the company's local service territory, in areas where it competes against other carriers' wired broadband offerings but not its own.