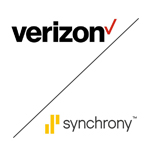 Verizon is teaming up with Synchrony to offer a co-branded credit card. Synchrony is also the financial institution behind the Sam's Club co-branded credit card.
The companies are still working out the details on Verizon's co-branded consumer credit card. Together, the companies will launch the first credit card designed specifically for Verizon customers.
Co-branded credit cards enable the co-brander like Verizon, Sam's and others to stay top-of-mind when paying the co-brander's, and, perhaps, other bills. The financial institution handles all of the actual billing, payments, risk (unpaid bills), card approvals, credit limits and other details.
The co-brander will typically offer some additional perks, one of the most popular being airline miles for airline cards, or a percentage credit against a the co-brander's bill on purchases. The percentage of credit could be a straight percentage – the Disney/Chase card, offers 1% convertible to points for Disney-related purchases. Or it could be tiered – Sam's offers 5% on gas, 3% on dining and 1% on all other purchases, with the user receiving the funds once a year.
The bank and co-brander share some percentage of the interchange fee, which is basically what the company accepting the card pays for the convenience of accepting it.
The actual income for the co-brander from such programs is usually small, but if someone has a co-branded card, he or she is likely to continue to use the same provider for a particular service rather than switching to a competitor.
T-Mobile is following a similar strategy. Though not offering a co-branded card, it is offering to pay above-market rates on cash deposits. Again, the strategy isn't so much to earn revenue from the financial relationship as it is for customer retention.
Verizon Credit Card
"We are thrilled to be working with Verizon as they continue to bring innovation to their customers. This partnership is a great growth opportunity for Synchrony as we continue to diversify our portfolio," said Margaret Keane, CEO, Synchrony, in a prepared statement.
"Verizon's loyal customers expect the best possible experiences and today's announcement extends that commitment to the credit card market," said Ronan Dunne, Executive Vice President and Group CEO – Verizon Consumer, in a prepared statement about the Verizon credit card news.