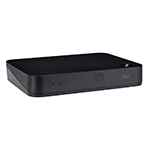 Verizon introduced Fios TV One today, an upgraded interface and experience for their pay-TV product. The new Fios TV One experience is available in several markets now including New York, Pittsburgh, and Richmond, Va., among others, with additional markets launching through December and January.
You could argue that Verizon is long overdue with this upgrade. When it first launched well over a decade ago in Keller, Tex., Fios TV was ahead of the pay-TV pack in terms of features and functionality, especially when compared to legacy cable competitors. It used an IP interface for the guide and experience, even though the video channels were delivered via traditional QAM technology.
But Verizon has made minimal improvements since then and the platform has been leapfrogged by the likes of Comcast's X1, Cox's Contour, and Altice's Altice One (not sure why the number one is so prominent in these platform names). It took a while, but Verizon has clearly responded.
The new Fios TV One has several new contemporary features. Verizon really had no choice if they intended to compete in the marketplace. According to a Verizon press release, the new features include:
Advanced Voice Remote: Talk to your TV like you'd talk to a friend. Change the channel, search for video-on-demand programming, and control your DVR with simple voice commands to get to what you want to watch faster.
WiFi Connectivity:  Put your TVs virtually anywhere in your home regardless of whether there's a coax outlet. When you add additional TVs, the secondary Fios TV One set-top boxes can be connected wirelessly with WiFi connectivity or through traditional coax.
Netflix Integration: Netflix is built directly into the Fios TV One interactive media guide for a seamless viewing experience.
4K Ultra HD TV: Fios TV One comes with full 4K UHD video quality, giving you the most out of the 100 percent fiber-optic network.
Verizon is currently offering a bundled Fios TV One and gigabit internet service for $79.99, although equipment fees apply. Verizon is also throwing in a free year of Amazon Prime for extra measure. Makes you wonder if Verizon Fios TV One will soon include Amazon Prime video integration, matching Comcast.
Verizon Evolving Video Strategy
Verizon's video strategy is difficult to nail down. Comments from previous CEO Lowell McAdam made it clear, he was no fan of traditional pay-TV and would be happy to shed that business in favor of more digital media entertainment properties that Verizon featured through their then new Oath digital media unit.
"We made our bet several years ago before we bought AOL and Yahoo and combined them together to do Oath that we weren't going to be investing in the linear TV model," McAdam said in a Yahoo Finance interview back in May of this year. "I've said this a couple of times, I think the linear model is dead, it's just going to take a long time to die."
But apparently, that strategy is not doing so great either, considering Verizon just announced a $4.6 billion write-down on Oath assets for its 4Q19 earnings. Ouch.
Verizon is also dabbling in OTT but through partnership. It's bundling YouTube TV and Apple TV with it's new 5G fixed wireless home broadband service. It's not yet clear whether new Verizon CEO Hans Vestberg shares McAdam's video views.