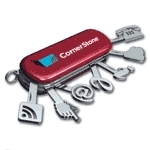 Verizon Global Wholesale today announced a service provider customer for a cloud-based infrastructure-as-a-service (IaaS) offering delivered through Verizon's Terremark data centers.  The customer, CornerStone Telephone Company, started life 10 years ago as a CLEC reselling Verizon's network in the Northeast, later building its own network but more recently focusing on cloud-based services.
"Our primary interest is what's on the fiber, not the fiber itself," said Don Walsh, CTO of CornerStone Telephone Company, in an interview.
CornerStone operates its own data centers, from which it delivers services such as SIP trunking and a hosted version of Microsoft Exchange. But when Verizon approached CornerStone about selling the Terremark Enterprise Cloud on-demand computing offering, Walsh said he was very interested in the idea.
"The beauty of having someone else's data center specifically designed to deliver a certain product frees you up from picking the wrong thing," said Walsh. He added that "we can't afford to build a tier 3 plus-plus data center with military-style security" such as what Terremark offers.
Connectivity, typically via Ethernet, is bundled in with the Enterprise Cloud service, which currently is delivered out of two domestic Terremark data centers but in the future will be expanded to data centers in other world regions.
"This allows us to turn it up a notch," Walsh said. "We're looking at a national content offering."
Walsh also praised Terremark's end user interface. "Within 10 to 20 minutes, the customer can be trained how to provision," said Walsh. Once trained, end users can easily turn up additional computing resources in just a few minutes.
"That's a very important aspect," said Walsh. "It's a very well baked product."
CornerStone plans to market the Enterprise Cloud offering under its own SkySphere brand. Target vertical markets include finance and healthcare.
Meanwhile, Verizon is "actively pursuing" deals with other service providers to sell Enterprise Cloud, said Bob Bratcher, senior product manager of cloud services for Verizon Global Wholesale.