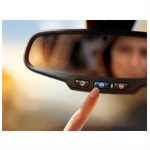 Global connectivity is the focus of a Verizon, General Motors connected car deal announced today. The deal calls for Verizon Telematics and global connectivity provider Globetouch to launch "upgraded network solutions" that will be used for GM's OnStar connected vehicle service.
Verizon, along with several other global telecom service providers, is a Globetouch backer, explained today's press release about the Verizon, General Motors Connected Car Deal.
Asked to provide more detail about those "upgraded network solutions," Verizon Telematics Vice President of OEM Business Mike Peterson said in an email exchange with Telecompetitor that "the solution enables General Motors to enter [into] a single wireless services agreement and receive wireless services for their vehicles in multiple countries around the world."
Peterson went on to note that "the solution ties together the networks from multiple carriers into a single solution for GM. . .  Verizon is assisting Globetouch in their global implementation for GM, and is collaborating with Globetouch on a global wireless solution for its Telematics and IoT customers."
The days when car makers built products only for limited geographic regions are quickly coming to an end, and most major automotive manufacturers are pursuing global opportunities, so it's easy to see why the sort of offering Globetouch has assembled would have strong appeal for GM, potentially eliminating the need for GM to deal with numerous carriers around the globe to support OnStar.
GM appears to be open to multiple connected car communications suppliers – at least in its domestic U.S. market, however. AT&T, for example, offers connectivity to support the OnStar 4G LTE WiFi Hotspot offering available on many current models. Previously that carrier also touted its own ability to provide "a single carrier to wirelessly enhance and connect products across the globe" but has declined to provide additional details about that.
Verizon, General Motors Connected Car Deal
Among U.S. wireless carriers, AT&T and Verizon both have been aggressively pursuing connected car opportunities. AT&T began racking up manufacturer wins several years ago, in part by offering a customizable connected car platform as well as connectivity.
Verizon initially seemed more interested in aftermarket opportunities. The company's Hum offering lets a car owner add connected car capability to virtually any model built since 1996. As today's news illustrates, however, Verizon clearly has set its sights on manufacturer OEM opportunities as well.
Ultimately car makers may find that car owners want a choice of carriers to provide connected car connectivity. AT&T offers car owners the ability to put their connected car on their existing wireless plan, suggesting car makers aren't the only ones looking for a single supplier to meet their communication needs.
This post has been updated.