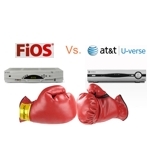 If you dig into Verizon and AT&T 2Q09 numbers, you find some interesting things. When comparing the two, one possible assertion is that FiOS does appear to be outperforming U-Verse. I freely admit, it's not exactly an apples to apples comparison. But since FiOS and U-Verse are their respective company's premium brand delivering a 'compelling triple play bundle,' I think it's fair to do some comparisons.
If providing details and metrics about progress equates to performance, FiOS beats U-Verse – easily. AT&T is quite coy about the performance of U-Verse in their quarterly reports. They don't offer straight penetration data, often mixing U-Verse metrics with other products, leaving a lot to be desired. While Verizon could offer more details, they definitely offer much more insight on FiOS. Does AT&T have something to hide?
Why is FiOS outperforming U-Verse? Consider these observations:
Video Penetration – Verizon FiOS TV penetration stands at 24.6% – a pretty decent number . Unfortunately, it's hard to compare FiOS' figure to U-Verse. AT&T combines U-Verse and DBS video subscribers and offers a combined TV penetration of 13.8%. As for U-Verse AT&T says "U-verse TV company wide penetration of eligible living units is now in double-digits, and in areas marketed to for 18 months or more, penetration percentages now are in the high teens."
Broadband Penetration – Verizon FiOS broadband penetration stands at 28.1% – another decent number. AT&T offers no penetration data for U-Verse broadband. While actual U-Verse broadband penetration numbers are lacking, by my estimation, U-Verse's total broadband connections of 1.6 million represents a significantly smaller penetration percentage than the 28.1% represented by FiOS.
ARPU – Verizon reports that FiOS customer ARPU is $135, which contributes to a higher across the board ARPU of $72.59 for Verizon. AT&T offers no insight into U-Verse customer ARPU, but its overall consumer ARPU is listed at $64.44, 11.2% lower than Verizon.
It's important to recognize this analysis focuses on operational metrics, not financial. There are those that will argue, in addition to these observations, the ROI for U-Verse and FiOS have to be considered. That's the subject for another day.  FiOS does appear to be outperforming U-Verse, at least for the time being. Verizon's decision to overbuild AT&T in some Texas markets makes a little more sense.