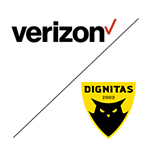 In another example of the complementary nature of 5G and esports, Verizon, Verizon 5G Labs and Dignitas are working together to identify and develop ways the carrier's 5G ultra wideband can enhance participants' performance and interactions with fans.
The goals of the partnership are to improve participants' performance and recovery and enable innovative fan/player connections. To do so, what Verizon says is the first esports training facility in the U.S. has been established at its 5G Lab. The facility will serve as Dignitas' west coast headquarters and home to its League of Legends. It will serve as the team's exclusive training facility for the League Championship Series that was scheduled to kick off tomorrow in Los Angeles.
"We're thrilled to partner with the largest ownership group in esports, and have our LA Lab be home to the nation's first 5G esports training facility," Verizon Chief Product Development Officer Nicki Palmer said in a press release. "With 5G's fast speeds, high bandwidth and low latency, players will be able to do things like stream high-quality gameplay essentially in real-time, stay connected with fans on-the-go, and experience console quality multi-player gaming on their phones."
Building a Case for 5G
Verizon and other wireless carriers see entertainment applications as key to helping fuel 5G adoption and these carriers are working hard to demonstrate it. The demands of esports is a good way to illustrate 5G's speed and low latency. Beyond esports, Verizon is partnering with others for 5G entertainment applications. Last November, Verizon and Snap – the company behind Snapchat – said that they will work together to use 5G Ultra Wideband to create augmented reality services and visual communications and content experiences. Two examples: Landmarker technology offers location-based entertainment experiences, and Portal Lenses can do such things as let users feel that they are backstage at concerts and provide unique in-stadium experiences.
Building 5G use cases goes beyond entertainment though. In March, Verizon and Responder Corp. named the initial class of the 5G First Responder Lab, which is housed at Verizon's DC Lab at Alley. Fifteen companies in three "cohorts" were slated to work on public safety-related 5G services for three months each over a year-long period. The companies were chosen from more than 50 candidates.
In November 2018, Verizon said it had opened two 5G Experience Labs and that two more would come during the next month. They are aimed at letting users feel how 5G will impact their lives.