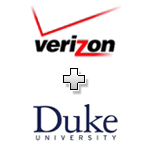 Developing mobile health care applications and consumer care education are two potential projects that Verizon and Duke University may pursue as part of a strategic health care IT partnership they announced Oct. 5.
Verizon Connected Health Care Solutions and Duke will share personnel and technical resources as they work jointly to develop health information technology initiatives that result in better and lower cost health care for more people, according to a press release.
The two organizations' respective contributions focus on their respective comparative and collective strengths. For Duke, that means drawing on the resources of the Duke MBA Health Sector Management program within its Fuqua School of Business.
Verizon's providing computing infrastructure to carry out analytical processing, modeling and technical implementation along with the operational personnel to see them through. Duke is providing domain expertise, which includes student, research and project management experts and educational program development staff, as well as intellectual property and other research.
"The ties between academia and technology companies run long and deep, and this collaboration underscores Verizon's commitment to enabling the transformation of U.S. health care delivery through the common-sense application of health IT," said Dr. Peter Tippett, vice president of Verizon Connected Healthcare Solutions. "Leveraging Duke's renowned research capabilities will help Verizon's technical staff identify and deploy technologies that are needed to advance U.S. health care in a sustainable manner."
The multi-year agreement addresses the following areas, according to the press release:
Technical Collaboration – Identification and assessment of health care-related technologies and solutions for technical and commercial viability, including conception, strategy, development and testing.
Business Collaboration – A formal internship program under which Duke University students will be assigned to positions within Verizon and work with teams on the development and implementation of strategic business initiatives.
Scientific Advisory Board – Staffed with senior representatives from both organizations, this group will review the progress of initiatives and offer input and guidance to meet program goals.
"This strategic agreement with Verizon offers great promise to serve as an agent of positive change in the U.S. health care delivery market," said Kevin Schulman, director – health sector management program, Duke University. "By tapping into Verizon's leading technology resources and applying Duke's research expertise, both organizations will be able to closely collaborate to explore how we can collectively unleash the powerful potential of health information technology."