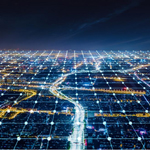 Verizon and NEC have conducted a successful field trial in which non-purpose built fiber was used as distributed sensors to collect a variety of traffic data. The proof of concept was designed to see whether existing fiber – and not fiber purpose-built for the application – could be used for this purpose.
The field trial used optical sensor technology developed by NEC that uses software that incorporates artificial intelligence. Verizon says that city traffic patterns, road conditions, road capacity and vehicle classification information were successfully collected.
"This test marks an important milestone for technology that could provide a huge leap forward for those building smart cities and those tasked to manage them," Adam Koeppe, Verizon's Senior Vice President of Technology Planning and Development, said in a press release. "Instead of ripping up tarmac to place road and traffic-sensing technology, cities will be able to simply piggyback Verizon's existing fiber optic network."
The test is important due to costs implications. If already installed fiber can support a new use case, the likelihood of that use case becoming popular increases.
In this test, the fiber sensing system coexisted with wavelength division multiplexing (WDM) channels on the fiber. This is the first time a 36.8 Tbps data transmission system and distributed optical fiber sensing were successfully sent together through an operational telecommunications network, according to Verizon.
There is a significant upside to this. The carrier says that it has hundreds of thousands of mile of fiber in place and has plans to add 1,400 more miles per month.
The bottom line is that such capabilities can help make smart cities a reality.