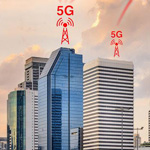 The latest claim about a 5G "first" comes from Verizon. The company said today that it completed "the world's first 5G data transmission on a smartphone on a commercial 3GPP 5G New Radio (NR) network." The 5G commercial network data transmission took place using Verizon's 28 GHz millimeter wave spectrum in Providence, RI.
Although Verizon has not yet launched 5G service there, a company spokesperson said in an email to Telecompetitor that the company used the same commercial equipment that it will ultimately deploy on its mobile network when it launches, as opposed to "test equipment in a lab or other trial setting."
First 5G Commercial Network Data Transmission
Verizon's Providence 5G data transmission used a Motorola moto z3 5G upgradeable smartphone with a 5G moto mod snapped onto its back.
As a Motorola spokesperson explained in an email, "Moto mods are interchangeable smartbacks that snap onto your phone – instantly becoming exactly what you need, exactly when you need it." She noted that high-powered magnets connect the moto mod to the phone and allow users to easily swap mods as needs change.
According to Verizon's press release today, "[t]his is the same 5G-upgradeable smartphone device consumers will use on Verizon's 5G mobile network when commercial service begins in 2019."
The device will be exclusive to Verizon, the Verizon spokesperson said.
The Verizon press release also noted that the Motorola products are powered by the Qualcomm Snapdragon X50 5G modem and QTM052 millimeter wave antenna modules.
5G New Radio (NR) "solutions" from Samsung also were used in the Verizon 5G commercial network data transmission, according to today's press release.
One-Upmanship
In September, AT&T said it had made the "world's first wireless 5G data transfer over millimeter wave using standards-based, production equipment with a mobile form factor device" in Waco, Texas, where the company has been doing a large amount of 5G experimentation. The company's claim would seem to be virtually identical to Verizon's claim today, but Verizon may be quibbling over whether the device that AT&T used was a true smartphone. According to AT&T, the Waco 5G data transmission used a "Qualcomm Technologies smartphone form factor test device with integrated Qualcomm Snapdragon X50 5G modem and RF subsystem and Ericsson 5G-NR capable radios."
Last month, AT&T said it had completed a successful test of the mobile hotspot it plans to use to support its mobile 5G launch, which is scheduled to occur before the end of 2018.
Sprint also has claimed a 5G smartphone first of its own, stating that the LG 5G smartphone it plans to offer in the first half of 2019 will be the first commercially available 5G smartphone.