A Verizon Charter merger has been the subject of rumors for a few weeks now, but news today from Dow Jones/Wall Street Journal is heating it up substantially. A developing story says Verizon is seriously considering the deal, although nothing is imminent and the deal could fall apart.
The WSJ report says Verizon CEO Lowell McAdam has approached Charter leadership and is working with financial advisors to structure a potential deal. Verizon is under pressure from Wall Street to explore deals that will lead to growth.
Their latest earnings data revealed sluggish growth from their core services, including once high flying wireless, and executives said they don't expect significant growth to return until maybe 2018. Their attempt to move into the digital content and advertising space through the AOL acquisition and pending Yahoo buy has been slower than anticipated. They are also under pressure to keep pace with AT&T, who has their own blockbuster deal under way, aiming to acquire Time Warner.
Huge Deal
A Verizon Charter merger would be huge in scale. Charter's market cap is north of $85 billion (as of today). If completed, it would be one of the largest deals in history. Charter would bring 17 million cable and 21 million broadband subscribers to Verizon's 114 million wireless, 7 million broadband, and 4.7 million video customers.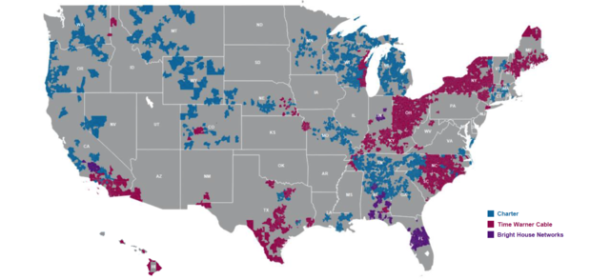 A combined Verizon Charter would rival Comcast in wireline video and broadband scale. Verizon would also be interested in Charter's network to help build, scale, and support their 5G ambitions.
Huge mega mergers like these are back in vogue these days, thanks to what is considered a favorable regulatory environment for big M&A deals under a Trump administration. A Verizon Charter merger would still likely face significant scrutiny, both regulatory wise and financially. Verizon already has more than $100 billion in debt. Stay tuned.