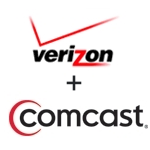 Comcast and Verizon Wireless will soon begin their partnership experiment, which was put in play recently when Verizon agreed to purchase the cable industry's AWS spectrum for $3.6 billion. That deal included a co-marketing and resale agreement between the participating cable companies and Verizon Wireless. A provision of the deal that helped peak the interest of the Justice Department.
The upper Northwest will be the start point as Comcast and Verizon begin reselling each other's services in Portland and Seattle markets. According to a Philadelphia Inquirer report, "…Comcast's Xfinity products will be sold through Verizon Wireless stores, Comcast will cross-promote Verizon Wireless services through call centers and online sites." The frenemy experiment is moving quickly.
Catherine Avgiris, senior vice president and general manager of communications and data services at Comcast tells the paper the Verizon Wireless/Xfinity bundles will be promoted as "the best services for inside and outside the home."
This is the most interesting angle to the cable-Verizon tie-up. Cross marketing and selling each other's services have tremendous implications for the competitive landscape. Everything from putting many other wireline broadband competitors (particularly those who depend on DSL) out of business to Verizon exiting the wireline business entirely have been floated as potential outcomes. It's just beginning, so time will tell if the market reality lives up to any of these predictions. Execution will be key – something that can't be taken for granted, given the players involved.
It is interesting to note that the Portland market is one of the first, considering Verizon sold off their wireline assets to Frontier in that market. Makes you wonder if Frontier ever envisioned Verizon partnering with Frontier's main competitor for a bundled wireline-wireless offering? Especially this quickly. Frontier recently partnered with AT&T for wireless resale. The brewing competitive battle in Portland may put that partnership to the test. Frontier and FairPoint, the other carrier who recently purchased Verizon wireline assets, may be in for an interesting battle over those former Verizon customers.