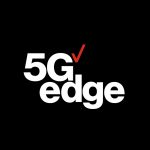 Verizon says that the edge computing platform that they created with AWS is live and available in Boston and the Bay Area and will launch in more markets by the end of the year. Wireless carriers are banking that 5G edge computing applications will help usher in a wave of enterprise, industrial, and even consumer 5G use cases.
Edge computing is about speed and latency. AWS Wavelength embeds compute and storage services at access points on the Verizon 5G network. These Wavelength Zones eliminate time-consuming internet hops and the resulting latency and make latency sensitive applications and services possible.
5G Edge Computing Applications
Verizon's press release cites several possible 5G edge computing applications, including "inference at the edge," autonomous industrial equipment, connected cars, smart cities, health care, smart factories, the IoT and live and interactive video gaming and streaming.
Verizon also is working with IBM on 5G edge computing. Last month, the companies said they will combine Verizon 5G Ultra Wideband and Multi-access Edge Compute (MEC) capabilities, IoT devices and edge sensors with IBM's expertise in AI, hybrid multi cloud, edge computing, asset management and connected operations.
Last December, Verizon Chairman and CEO Hans Vestberg told investors that 5G edge computing applications should create "meaningful" revenues for the carrier this year.
The use of edge computing is attracting interest in all corners of the communications marketplace. In July, DartPoints President and CEO Scott Willis and Chief Development Officer Loren Long pointed to the use of edge computing to cache content closer to end users. DartPoints' strategy is to work with smaller players. It recently agreed with two Iowa operators — Aureon and South Slope Communications — to interconnect to a DataPoints edge computing and carrier interconnection facility in the state.
In another piece of edge computing-related news from Iowa, Trilogy Networks and Chat Mobility in March announced the Rural Cloud Initiative. As of April, Inland Cellular and RINA Wireless Networks – an alliance of rural wireless carriers – had joined the initiative.