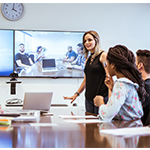 Verizon's Business Group and Zoom Video Communications are teaming on a video-focused cloud-based unified communications platform that is now available to all of the carrier's business customers.
The service will enable users to collaborate in more than 50 countries. Users can use call-in/toll free or call-me numbers to join sessions and join meetings from a Verizon wireless phone or through Verizon VoIP. Verizon will offer training and technical support for the Zoom platform.
"Businesses around the world are growing increasingly dependent on tools and solutions that are agile, intuitive and reliable," Shawn Hakl, Verizon's Senior Vice President of Business Products, said in a press release. "Ease-of-use and performance are critical qualities of video collaboration; encouraging employee engagement and driving greater productivity across the enterprise. Our mission is to offer each and every business the solutions suite that helps ensure these results. The addition of Zoom to our collaboration partner portfolio enables our business customers to get access to technology that hits both marks – ease of use and performance."
Unified communications is gaining momentum as workforces are increasingly geographically dispersed and advanced telecommunications, including the cloud, make such services easier for service providers to offer.
Zoom is seeing tremendous momentum with video UC. The company went public in April with a $752 million IPO and it's stock has more than doubled since then. Zoom first quarter revenue jumped 103% to $122 million. Full year sales are expected to be north of $537 million.
A fair amount of Zoom's growth can be attributed to partnerships like this Verizon example. Zoom has also effectively partnered with Salesforce and Slack, among others.