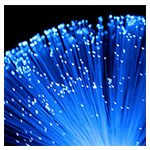 Verizon, Ciena and Juniper Networks have tested transmission of data at 800 Gbps on a single wavelength in the carrier's network. The companies say that this will enable them to keep pace with rapidly growing wireless capabilities.
The drastic increases in speed and reduction in latency brought by 5G require upgrades and improvements to other elements of the network. Chief among these are the wired connections that support the new approach, which must be upgraded as well.
The research is aimed at meeting these new demands. "In the past, we needed to combine multiple wavelengths to achieve 800 Gbps capacity," Kevin N. Smith, Verizon's Vice President of Technology and Planning, said in a press release. "Now, with the new optics configuration from Ciena and Juniper Networks on our fiber network, we are advancing our connecting layer of fiber to prepare for the explosion of data we know will come along with 5G's transformational impact on industries and consumers. And being the only provider in the industry with that capacity on a single wavelength allows us to deliver the service at a much lower cost per bit."
800 Gbps Single Wavelength
The trial demonstrated the ability to quadruple the typical capacity on a wavelength. The test featured transmission between two Juniper Networks' QFX5220 packet platforms across two Ciena 6500 platforms. The test used WaveLogic Extreme (WLE5e) coherent optics.
The software-driven and automated approach provide tunable capacity from 200 Gbps to 800 Gbps per wavelength. This, Verizon says, will enable maximum efficiencies and optimal capacity for any distance and give the carrier the ability to dynamically meet unpredictable traffic demands.
This is not the first time that the three companies have teamed up. In January, 2016, Verizon said that the companies successfully conducted a field trial using 400 Gbps Ethernet speeds on a single wavelength. The trial used MPLS core routers over a packet-optical network.