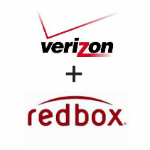 Looks like the rumors were true. Verizon and Redbox announced a joint venture this morning "… that will create a new choice for quality- and value-conscious consumers seeking a simple and affordable way to access the video entertainment they crave." Coinstar owns Redbox, the popular operator of DVD rental kiosks. The new venture will offer subscription and transactional (VOD and physical media) access to entertainment, creating a new rival to Netflix and others.
"Verizon is embracing streaming," said Bob Mudge, president of Verizon consumer and mass business markets on a conference call this morning. The venture will offer both physical DVD and Blu-ray rentals through Coinstar's 32K rental kiosks and streaming of video through Verizon's network to a national footprint. The new joint venture is expected to launch in the second half of 2012 and will be majority owned by Verizon, with a 65% ownership stake.
Verizon and Coinstar are being somewhat tight lipped on the details of the new venture. No word on a name of the new LLC, although a Coinstar 8-K filing reveals the new LLC will have licensing rights for the name Redbox.
The move illustrates the dynamic nature of the OTT video market space. Media and broadband companies are all trying to develop winning business strategies to embrace the growing popularity of digital distribution of video to a range of devices including, smartphones, tablets, PCs, and TVs. "By offering instantly available online and mobile content with immediate access to physical media through rental kiosks, Verizon and Redbox will be uniquely positioned to deliver the best of both worlds – digital and physical – to consumers across the country," the joint press release states.
This venture allows Verizon to take a national footprint approach for OTT and challenge the likes of Netflix, Vudu, Amazon, and others. A somewhat crowded marketplace already. Both Verizon and Redbox bring interesting assets to this venture.
Redbox claims a customer base of 30 million and has national footprint of kiosks. Verizon brings a burgeoning content distribution network, together with its vast mobile reach. Verizon also brings all important content rights to the table, the extent of which are not known at this time. The pair could create a formidable presence for the distribution of entertainment content.