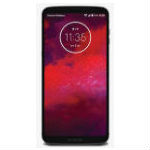 Verizon and Motorola announced the launch of the moto z3 , the first 5G smartphone for Verizon, but with a catch. The new 5G smartphone will have the ability to upgrade to 5G, sometime in 2019, when Verizon plans to launch mobile 5G services.
The upgrade to 5G will require a moto mod, which is a snap-on module to the moto z series phone. The 5G moto mod will have an additional cost, we just don't know how much yet. The additional 5G moto mod will work with Verizon's 5G millimeter wave spectrum, according to Verizon.
Verizon is selling the moto z3 for $480, but is offering up to $300 off for new subscribers who trade-in an older phone. Additional features include dual 12-MP, depth-sensing smart cameras that work with Google Lens and a nearly borderless 6" Super AMOLED display screen.
"Verizon is the definitive leader in the development and deployment of 5G. Our consistent and relentless focus on always delivering the best 4G network is the perfect foundation to bring 5G to market," said Nicola Palmer, Verizon's chief network engineer and head of wireless networks in a prepared statement. "As we like to say, we don't wait for the future, we build it."
The announcement of a pre-5G smartphone is consistent with the '5G arms race' currently underway with the national wireless carriers. They are all seizing on 5G buzz and want to be first to market with something, or really anything 5G. Verizon claims they will be first, but with fixed wireless service, acting as an alternative to wired home broadband.
AT&T claims they will be first with mobile 5G, although Verizon also makes that claim from time to time. T-Mobile says they'll be first with "real 5G." Expect the war of 5G words to accelerate.