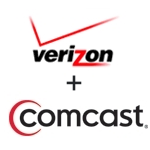 Verizon Wireless and Comcast today added markets in 10 states to the list of areas where they are co-marketing one another's services, with a special emphasis on Michigan and Indiana, where the companies are adding a total of 22 markets.
Other states where the telco and cable company will now be co-marketing in some markets include Alabama, Arkansas, Georgia, Kentucky, Louisiana, Mississippi, South Carolina and Tennessee. The new markets are in addition to previously announced co-marketing agreements in nine other markets.
As with most previous co-marketing launches, Verizon Wireless and Comcast once again steered clear of markets where Verizon is the incumbent local carrier. Most of the markets announced today are former Ameritech and BellSouth markets that are now part of AT&T.
Verizon Wireless and Comcast are offering incentives to customers in the new markets that are quite similar to incentives they have offered in other markets – including the possibility of receiving a Visa prepaid card worth up to $300 if they sign up for bundles that include Verizon wireless service and Comcast video and data services. Depending on the package selected, customers also may have the option of receiving a complementary 12-month subscription to Comcast Xfinity Streampix and Comcast HD DVR at no additional cost for six months and/or a complementary 12-month upgrade to Comcast's Blast! Internet service at download speeds of up to 30 Mbps.
"Our momentum with Comcast in delivering these value packages in other markets is continually drawing praise from customers," said John Granby, AT&T president for the Indiana, Michigan and Kentucky region for Verizon Wireless, in today's announcements. "Because mobility is a top priority for the consumer, we have developed an offering that provides a terrific wireless, entertainment and communications experience in one spot."
Verizon Wireless and four of the nation's largest cable companies set the stage for their co-marketing deals late last year when they signed a joint marketing agreement at the same time that the cable companies announced plans to sell unused wireless spectrum to Verizon Wireless. Both the joint marketing agreement and the planned spectrum sale have come under fire from competitors who argue that the moves are anti-competitive.
Verizon and the cable companies insist, however, that they do not require any regulatory approvals for the co-marketing deals. To date Verizon has launched co-marketing programs in certain Comcast, Cox and Time Warner markets. But Comcast has been the most aggressive cable company on this front, bringing the co-marketing deals to far more markets than its cable brethren.
UPDATE- Verizon Wireless today also announced co-marketing agreements with Time Warner Cable in markets in Alabama, North Carolina, South Carolina, Ohio and Wisconsin. The two companies previously announced agreements in Columbus, Ohio; Kansas City, Kan.; and Raleigh, N.C.
The promotions with Time Warner Cable give customers the opportunity to receive Visa prepaid gift cards valued at up to $200.