Verizon has turned on their LTE Advanced network in 461 markets across the U.S., leading to peak wireless speeds of 200+ Mbps for mobile broadband, the company announced. LTE Advanced is the next generation of 4G LTE and it is being deployed across the globe.
LTE Advanced uses carrier aggregation technology, which essentially utilizes multiple spectrum bands (700 MHz, AWS, and PCS spectrum) to combine two or three channels into one big wireless pipe. The boost in bandwidth occurs as subscribers use bandwidth intensive applications like HD video.
"Our customers just received a major network enhancement for no additional cost," said Tami Erwin, head of operations for Verizon's wireless unit in a press release. "Verizon LTE Advanced works like a turbocharger on an engine. Speed boosts kick in when you need it most, with big data use.  That's when you get the big peak boost of Verizon LTE Advanced."
Verizon is promising a 50% speed boost for typical subscribers, up to 225 Mbps in peak wireless speeds when needed. This does not mean average speeds will achieve this performance all the time. "Customers will continue to enjoy typical download speeds of 5 – 12 Mbps, but two-channel carrier aggregation has shown peak download speeds of up to 225 Mbps, far exceeding the current speeds being experienced by wireless data networks nationwide," Verizon explains in a press release.
Verizon says LTE Advanced currently works on 39 devices. Subscribers don't have to upgrade anything. I am a Verizon Wireless subscriber in the Washington DC market, using an iPhone and have been testing the service for the past two days.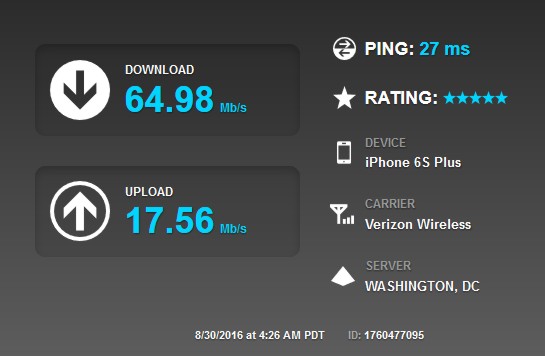 I am getting much faster speeds, but nothing near 225 Mbps. The fastest I've recorded is 65 Mbps down and 17.5 Mbps up. Still pretty impressive for a mobile device.
Other carriers including Sprint are also planning to launch similar LTE aggregation technologies, although Sprint uses a slightly different approach than Verizon.