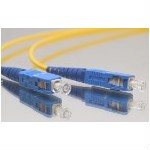 Verizon plans to announce tomorrow that it has achieved a data speed of 800 Gbps over a distance exceeding 400 miles over a single strand of fiber. The Verizon single fiber 800G trial used equipment from Infinera that works adaptively to deliver the best speed possible over a given fiber span, explained Verizon Vice President Kevin Smith in an interview with Telecompetitor.
Based on the distance to be covered and the condition of the fiber, "we find the maximum line rate it can run at for the length and condition of the span," said Smith, who noted that the trial was conducted using installed fiber that was part of the XO Communications network that Verizon acquired several years ago.
"One of the significant benefits here is that these systems allow us to leverage older fiber infrastructure that's been out there for some time," Smith added.
The same equipment that supports single fiber 800G over 400 miles also can support 400G over 2,600 miles. The latter distance is more in line with what Verizon has engineered for its existing 100 Gbps or 200 Gbps networks.
Verizon will phase in the new technology, which is not exclusive to the company, over the next two to four years, Smith said. Deployments will target routes that are predicted to exhaust soon.
"Depending how long the route is, we would light it up at 400G, 600G or 800G," he said.
Impending fiber exhaust is driven, in large part, by enterprise customers ordering faster-speed connections. A customer that might have ordered 1.5 Gbps circuits in the past is now ordering 10 G or even 100 G circuits, Smith noted.
"The total volume of circuits has come down, but the size of the pipes has gone up," Smith said.
Verizon Single-Fiber 800G
While optical transmission equipment traditionally has used 50 GHz channel spacing, the equipment that Verizon used in its 800 G trial uses a different approach that will enable "a four times increase in capacity over the same fiber pair," Smith explained.
Infinera is one of multiple suppliers that are adopting the flexible grid and adaptive speed approach, he added.
Tomorrow's news builds on a previous announcement earlier this year that Verizon had achieved 800 Gbps speeds over shorter distances.