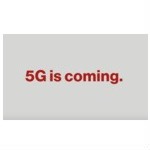 The Verizon 5G roadmap gained another step with the first successful completion of a 5G new radio (NR) 3GPP standards compliant over-the-air mobile 5G call, the company announced yesterday. The call was completed over licensed spectrum on a 5G NR prototype device provided by Qualcomm.
The mobile 5G call utilized Verizon millimeter wave spectrum and was conducted at a Nokia facility in Murray Hill, NJ. The call tested interoperability between Nokia's 5G networking technology and Qualcomm's 5G NR compliant devices.
"With this first 3GPP NR standards-based connection, Verizon continues to lead the development of 5G technology," said Ed Chan, senior vice president and chief technology architect, Corporate Network & Technology, Verizon in a statement. "By partnering with Nokia and Qualcomm to combine 5G technology with our deep millimeter wave spectrum, we're well on the way to being the first to usher in the next era of wireless communications for customers."
The Nokia 5G network utilized their CloudRAN solution, which is comprised of the Nokia AirScale baseband and radio, AirFrame server, and AirScale Cloud RAN running 5G NR 3GPP-compliant software, according to Verizon.
This important step in the Verizon 5G roadmap highlights the ongoing race to bring 5G to market. Verizon intends to be first with a fixed 5G service providing home broadband service later this year. AT&T claims they will offer a mobile 5G service by the end of 2018, although they are being very liberal with their definition of mobile 5G.
Sprint recently promised to bring mobile 5G to market by mid-2019. All of these mobile 5G plans have been somewhat accelerated thanks in part to a quicker release of 3GPP 5G NR standards, with the first of those standards released in December 2017.
Even with this accelerated 5G timeframe, real mobile 5G probably won't be realistic until 2020 and beyond, due in large part to the need to get 5G capable handsets into the marketplace.