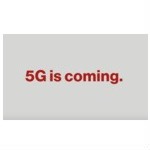 The long discussed Verizon 5G launch is scheduled to take place in Sacramento, Calif. and 3 – 4 other markets in the second half of 2018, the company announced today. The initial launch will focus on residential broadband using fixed wireless, as a competing service to fiber and cable broadband.
At an investor meeting today, Verizon EVP & President of Global Operations John Stratton said Verizon expects a 20% – 30% penetration of broadband service in these markets. The 5G fixed service will offer broadband, video, and voice services, with broadband speeds of up to 1 Gbps. Pricing was not revealed, but Stratton said it will be competitive.
Verizon says they believe their initial market opportunity for fixed 5G broadband service to be approximately 30 million households nationwide. If Verizon's fixed 5G service is reliable and competitively priced, it should make things really interesting in those markets. A broader Verizon 5G launch is expected in 2019.
5G Trial Performance
Verizon is using mmWave spectrum for these 5G deployments. Trials have targeted both single family home units and multi-dwelling units (MDUs) like apartment buildings and office buildings. At an industry conference today, Verizon Chief Network Officer Nicola Palmer said Verizon is seeing good performance with mmWave, including "[s]peeds in and above the 1 gigabit-per-second range beyond 2,000 feet." Verizon has previously said non line of site performance with mmWave is better than they had anticipated as well.
These 5g trials have been ongoing in eleven markets during 2017. They are targeting fixed broadband services first, but intend to eventually launch a "[w]ide array of services – including broadband, mobile and IoT (Internet of things) — and the necessary bandwidth and low latency for 3D and virtual reality applications," the company stated in a press release.
Verizon references many of the applications being touted for 5G, and appears to be rather upbeat at the prospects. This is a bit of a departure from some sobering viewpoints about 5G possibilities from other carriers around the globe at a recent Huawei event. Although, U.S. carriers were not represented there, with much of the sobering 5G reality discussions coming from European based carriers.
[embedyt] https://www.youtube.com/watch?v=pewt6lioOfA[/embedyt]
Verizon 5G Path
"This is a landmark announcement for customers and investors who have been waiting for the 5G future to become a reality," said Hans Vestberg, Verizon president of Global Networks and Chief Technology Officer in the press release. "The targeted initial launches we are announcing today will provide a strong framework for accelerating 5G's future deployment on the global standards."
Verizon does indeed have high hopes for 5G. Getting to market first is important, as they see there 5G path helping drive perception of Verizon as a market leader offering a higher quality network. It's a strategy Verizon used for good success with 4G, allowing them to sustain relatively higher pricing than their peers. The investments are significant, both for spectrum and for infrastructure. Verizon CEO Lowell McAdam recently said that the fiber densification process they are undertaking to fuel 5G will give the carrier the largest fiber network in the country.
This post has been updated.