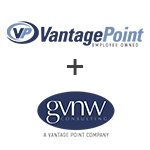 Two well known rural broadband industry consulting firms announced they are merging. The Vantage Point GVNW merger will create an organization with a staff of more than 350 people spread across seven office locations.
The combined firm will be led by Larry Thompson, the current CEO of Vantage Point. Current GVNW CEO Jeff Smith will "pivot slightly" to become the firm's Vice President of Regulatory Affairs, the companies announced in a press release.
The merged company will be headquartered at Vantage Point's corporate office in Mitchell, S.D. Other existing offices will remain. They include GVNW's assets in Portland OR; Colorado Springs, CO; the San Antonio metro and Springfield, IL. Vantage Point offices in Sioux Falls, SD and the Charlotte, NC metro also will remain.
Vantage Point has an engineering consulting pedigree, to which the firm also added business and regulatory consulting services in the past few years. GVNW has a long history in business and financial consulting for the rural telecom industry. The merged firm hopes to combine and build on those legacies and point's to its expertise in feasibility studies, network design and construction, finance, business operations, strategic planning, market competition, and state and federal regulatory compliance, among others.
GVNW and Vantage Point are familiar with each other. "It's really a tremendous alignment of experience, services, and beliefs," Thompson said in the press release. "We've worked well together in the past on joint projects, and have a strong mutual respect."
Terms of the Vantage Point GVNW merger were not disclosed.
"Our team is especially happy to be joining a group that also does engineering, data networking, and outside plant management," added Smith. "For many years we were able to assist our clients with the consulting, but not those other pieces. That's a big deal to us, to be able to see our clients through every step of the way."
The rural broadband industry has seen it's fair share of M&A activity over the past few years. That activity has been primarily between carriers as network operators aim to add scale and take advantage of opportunistic deals. Additionally, over $21 billion in rural broadband funding opportunities have been announced between the ReConnect and RDOF programs, creating tremendous opportunities for consulting companies. It looks like Vantage Point and GVNW see an opportunity to scale up themselves to better take advantage of this active environment.