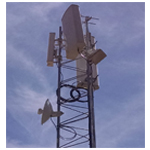 Like many utility companies that get into broadband, Tennessee-based Newport Utilities initially used fiber to the home infrastructure when it deployed broadband service. Soon, however, we will see a utility company fixed wireless deployment from Newport, as the company decided to use fixed wireless network to reach additional unserved rural locations in the state.
"Fixed Wireless Access can be a solution in places where wired Internet is a challenge geographically," Rob Johnson, Head of Customer Unit Regional Carriers for Ericsson North America, said in a press release. Ericsson will supply equipment operating in the 3.5 GHz CBRS band for the deployment that will use 64T64R massive MIMO technology.
Ericsson will operate the network for its first year of operation.
Utility Company Fixed Wireless
Another rural broadband provider, Watch Communications, said in October 2019 that it will use Ericsson's FWA equipment for the Connect America Fund II (CAF II) deployment that it will make in rural Ohio, Illinois and Indiana. Watch was one of the biggest winners in the auction.
FWA is growing in popularity as attention turns to upgrading connectivity to traditionally hard to serve rural areas. Microsoft's Airband initiative, which relies in part on fixed wireless and TV white space technology, aims to reach 3 million unserved Americans by 2022.