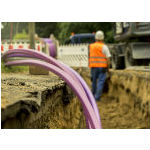 USTelecom estimates that broadband providers comprising 95% of the U.S. market invested $75 billion in 2018.  That's a significant increase from 2017 broadband capex, which USTelecom estimated at $72 billion for those providers. Service providers that offer wired and/or wireless services, including cable companies and telecom companies, were included in the USTelecom broadband investment estimate.
"USTelecom's top line broadband capex data strongly suggest that the current pro-investment, pro-innovation, and pro-consumer policy environment is working," the association said in a press release.
That was an apparent reference to policy decisions made in recent years, such as the decision to repeal Net Neutrality rules. Those rules were unpopular with major broadband providers, who argued that the rules led to uncertainty, thereby putting a damper on investment plans.
USTelecom Broadband Investment Data
USTelecom, which represents large and small incumbent telecom providers, has estimated annual broadband investment for the last nine years and has noted that capex peaked in 2014, but declined in 2015 and 2016, then began to increase in 2017 after there was a change in the regulatory environment.
FCC Chairman Ajit Pai wasted no time in taking credit for the increased investment trend, arguing in a statement that his administration "turned the page on the failed policies of the past and charted a new course" that focused on "reducing unnecessary regulatory burdens and cutting red tape that discourages broadband deployment."
Today's research builds on preliminary data about the top six U.S. broadband providers that USTelecom released in February. USTelecom estimated that those companies – AT&T, Charter, Comcast, Sprint, T-Mobile and Verizon – spent $66.3 billion in 2018, up from $64 billion in 2017. According to today's press release, further examination of data from additional providers revealed that the growth trend for the Big Six was seen among other providers as well.
It's worth noting that of the six largest broadband providers, the two primarily wireless companies – Sprint and T-Mobile – had the highest capex growth between 2017 and 2018, which came in at 48.3% and 5.7%, respectively.
Moving forward, it would be interesting to see USTelecom take its research a step further, if possible, to estimate the breakout between investment in wired and wireless networks. This would be particularly interesting information to know now that wireless carriers are investing heavily in 5G.