The T-Mobile DIGITS phone number offering announced yesterday breaks a lot of new ground, but may not be quite as disruptive as it initially appears, as a Telecompetitor email exchange with a T-Mobile spokesperson revealed. Despite T-Mobile hype, using T-Mobile DIGITS on competitor phones comes with strings attached.
As T-Mobile explains in a video and press release, the DIGITS offering focuses on a new type of phone number that the company calls DIGITS, which enables people to have multiple DIGITS on the same mobile phone. It also lets people place and receive phone calls or text messages using the same DIGITS phone number on a variety of devices – including phones, tablets, wearables and computers.
All of that should be compelling to end users. For example, a DIGITS YouTube video shows the narrator using an old phone to make calls when the battery runs out on her usual smartphone. It also shows her placing calls from a work computer when she forgets her smartphone. And as the narrator explains, "Now you can have multiple DIGITS for all the roles you play in life."
That means a person who previously carried two phones – one for work and one for personal use – can now load a work number onto his or her personal phone and just have one phone. Potentially that also could save businesses a lot of money by not having to provide phones to so many employees. And if an employee leaves, the company keeps contacts and other data associated with the employee's business phone number.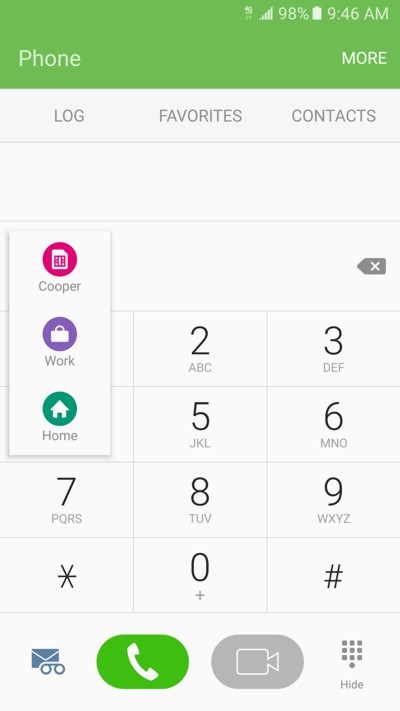 Using T-Mobile DIGITS on Competitor Phones
To get started with DIGITS, end users download an app to their phone (unless they have recent-model Samsung devices, in which case DIGITS is already natively supported). In an initial beta trial, the service will be free. When asked about longer term pricing, a T-Mobile spokesperson said the company was not announcing anything at this time but that "as with anything the Un-carrier does, you can expect it to be disruptive – stay tuned."
Telecompetitor wondered how future charges for the service would be handled for those customers who want to take advantage of something John Legere touts in the DIGITS announcement.
"[T]his is my favorite part: you can even use DIGITS on Verizon, AT&T and other smartphones," Legere said.
What Telecompetitor learned was that it's not as simple as it might sound. The DIGITS service will have to be tied to a T-Mobile account in order for end users to use it on an AT&T, Verizon or other carrier's phone, the T-Mobile spokesperson explained.
For a lot of businesses, that probably won't be a deal breaker. Undoubtedly there are businesses that would be happy to create a T-Mobile account, if they don't already have one, in order to gain the expected benefits from putting DIGITS on employee phones, including competitive phones. But it does appear that using DIGITS on competitive carriers' phones essentially will be a business-only capability.
That limitation could, however, be a reason for consumers to switch to T-Mobile from their current carrier.
Key Facts About DIGITS Phone Number Offering
A few other points worth noting:
DIGITS will use VoLTE. T-Mobile says the service is unlike other mobile VoIP offerings because it will prioritize DIGITS traffic.
DIGITS is built natively into the newest Samsung smartphones (Note 5 and Galaxy S6 and later). It also will be built into devices from other manufacturers moving forward. Until then, users of other devices will download an app to enable the service.
All the devices on which an end user uses DIGITS will automatically sync up with each other. For example, an end user can send a text message from one device and receive a response on a different device.
According to T-Mobile, more than 30 million Americans carry multiple devices.
T-Mobile said it has been developing DIGITS for years and has patents that will make it difficult for competitors to replicate the offering.