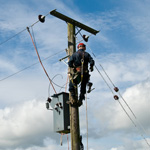 The U.S. Department of Agriculture has announced a $3.8 million investment in high speed broadband infrastructure to serve rural households in Virginia. The award is the latest of three USDA Reconnect program awards made to date.
The award goes to Mecklenburg Electric Cooperative and will help provide 100 Mbps or faster download service on FTTH infrastructure to 1,254 households, two volunteer fire departments and four educational facilities.
The award brings the total awards made so far in the ReConnect program to $16.4 million. Previously, investments were announced in South Carolina and Tennessee.
The program, which has a budget of $600 million, was established by Congress last year. Of that total, $200 million is to be awarded in the form of grants, $200 million in loans and $200 million in grant/loan combinations. The first two awards announced were for grants. Today's press release does not specify whether Mecklenburg Electric Cooperative will receive a loan, a grant or a grant/loan combination.
USDA ReConnect Program Awards
The first two ReConnect awards were announced last month. The award in South Carolina was for $9.75 million and went to Orangeburg County. The project will cover 3,911 households, 21 farms, 17 rural businesses, 13 education facilities, nine critical care facilities and a heath care center, according to the USDA. The USDA also made a $2.85 million grant to the Forked Deer Electric Cooperative in Tennessee. The project will cover 347 households and one critical community facility spread over 435 square miles.
Eligible applications are from areas in which most households have download speeds of less than 10 Mbps and upload speeds of less than 1 Mbps. The USDA says that between May 31 and July 12, 146 applications for $1.4 billion were received.
Announcements of recipients are being made on a rolling basis. "Our core mission at USDA is to increase rural prosperity, and this mission cannot be achieved without addressing the digital divide our rural communities face due to a lack of high-speed broadband internet connection," Donald LaVoy, the Deputy Under Secretary for Rural Development, said in a press release. "Under the leadership of President Trump and Agriculture Secretary Sonny Perdue, USDA is committed to being a strong partner to rural communities in deploying this critical infrastructure, because we know when rural America thrives, all of America thrives."