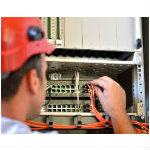 USDA ReConnect awards made today in Kansas, Oklahoma and New Hampshire total $73 million in the program aimed at creating or enhancing broadband capabilities in rural areas.
In New Hampshire, the program is providing a $2 million loan to Granite State Telephone Inc. to aid in the building of a symmetrical 1 Gbps network that will serve 890 households, an educational facility and a critical care facility in Hillsborough, Sullivan and Cheshire counties.
Additionally, four awards totaling $71 million were made in Oklahoma and Kansas:
KanOkla Shidler LLC is receiving a $15 million loan and a $15 million grant to construct 251 miles of FTTP infrastructure in Osage County, OK. The network will reach 2,101 residents, 26 farms and 28 businesses.
Cross Cable Television LLC is receiving a $2.2 million USDA grant to construct a fiber-to-the-premises (FTTP) network in Le Flore and McIntosh counties in Oklahoma. This project will reach 265 residents, 13 farms and six businesses.
Carnegie Telephone Company is receiving a $1.2 million loan to build FTTP infrastructure in Carnegie, OK, which is in Caddo County. This project could benefit up to 926 residents.
The USDA ReConnect Kansas award went to Totah Communications Inc. The company is receiving an $18.9 million loan and an $18.9 million grant to construct 621 miles of FTTP broadband infrastructure. The footprint reaches 8,155 residents, 20 farms and 15 businesses in Rogers, Nowata, Washington and Osage counties in Oklahoma and Montgomery and Chautauqua counties.
The USDA  announced $23 million in awards to New Mexico earlier this week.
The initial ReConnect pilot project, which originallywas budgeted at $600 million, now has announced investments of almost $718 million in 76 projects in 33 states and territories. The CARES Act, which was promulgated to help deal with the COVID-19 pandemic, included an extra $100 million for the ReConnect program. That infusion is aimed at approving grants that initially were rejected.
The USDA announced it has received 172 applications totaling $1.57 billion for phase II of the ReConnect program.  This phase will offer $550 million in the form of grants and loans and grant/loan combinations. The USDA will award up to $200 million for grants, as much as $200 million for grant/loan combination and as much as $200 million for low-interest loans.